LHS

grad finds right chemistry in

KU

studies
A Lansing High School graduate is thriving as a student chemist at the University of Kansas.
Gwyndolyn Jones, who just completed her sophomore year at KU, was one of 12 recipients of a $1,200 Undergraduate Research Award from KU's Honors Program.
Jones' research project concerns inorganic chemistry, the study of chemical compounds. "My group works with anion coordination chemistry," Jones said. "There are a lot of different things you can do with anions."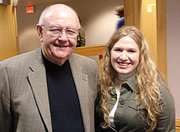 Anions are negatively charged atoms, she said, giving two examples as fluoride and chloride.
Jones plans to work with anions until she graduates and plans on going to graduate school and earning a Ph.D. in chemistry.
The Research Award is a boost for students that want to go to graduate school because it allows them to engage in research as an undergraduate, said Mark Nesbitt-Daly, associate director of the Honors Program, which provides enhanced educational opportunities to KU's most academically talented undergraduates.
Jones grew up in Leavenworth and moved to Arizona with her parents and two sisters when she was about 10, but returned to Lansing at the end of 2000. She graduated from Lansing High in 2005 as a valedictorian.
Ever since Jones can remember, she said she has wanted to study at KU.
"I have wanted to go to KU my whole life," Jones said. "I think I was destined for it - and it's close to home."
Jones also wanted to study at KU because of its chemistry department. Though KU's chemistry department is involved deeply with research, Jones said she never imagined she would get to conduct research this early in her undergraduate experience.
Jones applied for the Undergraduate Research Award because she needed money for her research.
"I was looking at different options and I realized that the Honors Program had money specifically for research," Jones said. "I thought maybe I would have a good chance if I applied for it because I have been doing research since the beginning of last summer."
The research Jones is working on now fits in with her long-term goals.
"I would like to continue working with this particular type of anion coordination chemistry," Jones said. "I am sure I can find a (postgraduate) program somewhere that fits."
While graduate school and a Ph.D. are years away, Jones struggles with the thought of leaving KU.
"It's hard because I don't want to leave KU, but I know I have to," Jones said.
Attending graduate school somewhere else, though, doesn't mean Jones would give up on being a Jayhawk.
"I would like to come back to KU and teach chemistry and continue to do research," she said.
Jones plans on conducting more research this summer by participating in the Research Education for Undergraduates Program.
While Jones is deeply involved with her research, she goes home most weekends to attend church at the First Baptist Church of Leavenworth.
Jones, though, has made many friends since coming to Lawrence and is excited to continue her research.
"I've really learned who I am now that I am working toward my goals," she said. "I can take classes that pertain to my future, and I have gained a lot of confidence in myself by doing so. It's like I've found what I like doing and then I have to go to class on the side."
Sue Lorenz, associate director of the University Honors Program, and Jones' honors adviser, said she was pleased with how Jones has forged ahead in her chemistry major.
Lorenz said that KU has a decent number of female faculty members in chemistry that are good role models, including Kristin Bowman-James, a chemistry professor and Jones' chemistry mentor.
Someday, Lorenz said, Jones "might give that little extra modeling to somebody considering a career in the sciences."