A sign of social partnership
Service clubs come together for welcome sign dedication
The new Welcome to Lansing sign at the intersection of Kansas Highway 7 and McIntyre Road is not only a warm "hello" to visitors but a symbol of togetherness for the 11 service organizations represented on the sign, officials say.
At a dedication ceremony Tuesday, June 26, representatives from each organization gathered beside Gene Young, the sign's creator, and Mayor Kenneth Bernard to show their support for the new sign.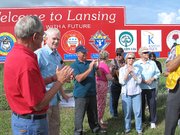 With everyone gathered close to hear above the rush of cars racing by, Bernard officially dedicated the sign on behalf of the city and congratulated all of the volunteers who participated in its creation.
He said the sign represents the membership and loyalty of 656 Lansing residents who give their time to one of the 11 service organizations whose logos appear on the sign.
Young followed with more thanks to all the people who helped make the sign possible. After about a year of hard work that included applying for KDOT permits and gathering materials, Young said it had finally paid off.
"This is great," he said. "It's like a dream come true."
Young's goal for the sign is to be the first step to bringing all of the service organizations together. He said he'd love to see the clubs and their members work together because so many great community projects could be accomplished.
He said he would even like to see the sign expanded to add more organizations, such as the Lansing Historical Society and the Lansing Education Foundation.
For now though, he said he would approach different organization members to get ideas for a big project all of the clubs can work on together to make "something great" happen for the city of Lansing.