Danny Asher was hooked on cars at a young age; actually, it started with bicycles.
"When my brother, Randy, and I were kids living over on Ninth Avenue in Leavenworth, we were the ones always taking our bikes apart," Asher said. "We both had our license at 14, but I remember driving to the Skylark drive-in when I was 12, you know, with the parents following behind."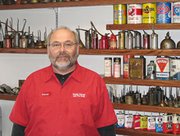 Asher enrolled in auto mechanics in high school, tinkered with friends' cars in the U.S. Air Force, and came back to earn a degree at the vo-tech school in Atchison to better learn the trade.
Some 30 years later, Asher is still doing what he loves.
He's owned Dasher Garage, right next to brother Randy's Main Street Auto and Body for the past two years. Randy handles towing and bodywork, with Danny running the mechanical side.
"I've got everything you need done to a car here," Asher said. "Motors, transmission, tires, alignments, windshields : everything."
For fun and for a little extra advertising, Asher sponsors a car in the dirt track races at Lakeside Speedway. His driver, Gene Klaxton, has won the Grand National class at Lakeside for the past three years running.
Also in his free time, Asher collects and displays old-fashioned oil cans in his office that he gets from customers and from antique malls when he's traveling the county for auto shows and such.
Dasher Garage usually employs six mechanics, in addition to Danny's youngest son, Kevin, who helps out in the shop office. But Asher also has a new baby now: a shiny black, Z06, 505 horsepower Corvette.
"It's the fastest production car GM has made to date," Asher said, grinning.
NAME: Danny Asher
ADDRESS: 18663 Santa Fe Trail Drive, Leavenworth
OCCUPATION: Owner, Dasher Garage; retired from the Federal Prison System
FAMILY: Darla Gwartney, girlfriend of 12 years; Kevin, 26, son; Bryan, 35, son
HOW LONG HAVE YOU LIVED IN LANSING AND WHAT BROUGHT YOU HERE? "I live in Leavenworth, used to run a shop up there. My brother (Randy) talked me into building by his shop, so we sold the house off and built a new place. : It's been two years."
WHAT DO YOU LIKE MOST ABOUT LANSING? "I like Lansing because it's a small community. The citizens - or a lot of the people - support business in town. You'll hear them comment, 'I'd rather spend my money here, keep tax money here.'"
WHAT DO YOU DO FOR FUN? "Dirt track. Used to be building show cars and showing show cars, and I still do a little of that. I enjoy collecting old fashioned oil cans."
WHAT WOULD SURPRISE PEOPLE ABOUT YOU? "Maybe some people would be shocked that I go to First Baptist Church, you know, and that I'm very religious."
WHAT'S THE BEST ADVICE YOU'VE EVER RECEIVED? "To treat people honestly; be it if I go into a restaurant and get the wrong change. Don't put it in your pocket. : Just to treat people how you want to be treated, and tell it how it is."
WHAT ORGANIZATIONS OR CLUBS DO YOU BELONG TO? First Baptist Church, Leavenworth Cruisers