Lions ready for round 3 with Braves
All season long Lansing High senior Jeff Jackson has claimed that this was not a rebuilding year.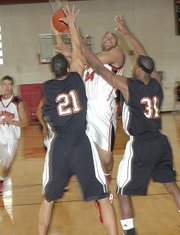 Despite being the team's only senior and one of just two returners who'd ever played varsity basketball, Jackson predicted the Lions would make some noise this season.
He's about to find out if his prediction was right. Lansing plays host to Bonner Springs (6-14) at 7 p.m. today at Johnsmeyer Gymnasium in the first round of the Class 5A substate tournament.
Lansing owns a pair of 50-43 victories over Bonner this season, the most recent coming Feb. 22 at LHS. If the Lions win this meeting, it would be their first postseason victory since the 2002-2003 team advanced to the Class 4A state tournament under former coach Don Allen.
"We're sitting with eight wins now, and realistically we've lost two games that I thought we should have won at home," first-year coach Rod Briggs said. "We could've been a .500 team right here, and with this group that would've been an awesome (achievement), but I'm still very happy with eight. When you start 0-6 and you come back and get eight wins after that, that's not bad."
Briggs wants win No. 9, though.
"We're not done yet," he said. "We want a chance to play Thursday, get a win there and move on."