Buehler helps Kansas wrestlers topple Missouri at Metro Classic
Kansas City, Kan. — Kyle Buehler compiled a 139-14 record during his four-year career as a Lansing High wrestler.
He added win No. 140 on Tuesday night at the Metro Classic, an annual wrestling showcase that pits the top seniors from the Kansas side of the state line against the best from the Missouri side.
Photo Gallery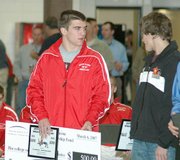 Kyle Buehler at the Metro Classic
Long hyped as the dominant side of the border, Missouri fell for the second straight year Tuesday at Kansas City Kansas Community College where Kansas pulled off a 27-26 victory.
"Everybody says, 'Oh, Missouri's going to kill Kansas. Kansas might win one match,'" Buehler said. "It feels great to just whoop up on them a little bit and show them we're a little tougher than they think we are."
Buehler did his part to help Kansas win. Although he wrestled at 140 pounds during the high school season, he competed Tuesday at 135 pounds against Nathan Neske (48-4) of Lee's Summit North, the Missouri state runner-up.
Buehler took charge of the match with an early takedown and never relinquished control.
"I had to wrestle smart all the way through," Buehler said. "I worked my moves and worked my technique. I rode him out and he got tired."
Buehler spent about a week practicing with his Kansas teammates to prepare for the event. That meant he got to team up with former rivals such as Mark Millstead of St. Thomas Aquinas.
"In practice every match is tough," Buehler said. "Everybody's real quality, the best of the best that we've got. It's probably the best atmosphere you can have just to get better as a wrestler."
Buehler said it wasn't hard to root for former rivals, either.
"We're all Kansas boys," he said. "We're all teammates now, so we've got to cheer for each other."
In addition to wrestling, Buehler also was honored at the Metro Classic as a finalist for the Jeffrey C. Wicina Scholarship. Cody Mikessell of Piper won the award, but Buehler received a $500 scholarship for being a finalist.