Appropriately enough, Laura Phillippi works in the shadow of the Lansing Correctional Facility as site supervisor of the Lansing Historical Museum.
The museum, just down from the state prison, displays various artifacts from the nearly 150-year-old building, including pictures, restraints and even makeshift guns and shanks that prisoners crafted from spare materials.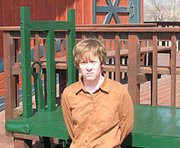 Phillippi has worked at the historical museum since 2006 and, among other things, is responsible for procuring a recent grant from the Kansas Humanities Council to preserve historic photographs.
"They had done what they could do with volunteers (before I got here)," Phillippi said Wednesday, "but the place really needed some TLC."
The museum is a historically accurate restoration of the Santa Fe Train Depot, built in 1888 and moved to its current site in 1992. Currently it features a Leavenworth County quilting exhibit, with two other exhibits, an agricultural heritage display this summer and a church exhibit this fall, scheduled for later this year.
This Saturday, Phillippi will hold a screening and discussion of the movie, "Capote," which is based upon author Truman Capote's experiences in Lansing while writing "In Cold Blood." The event begins at 2 p.m. and is intended for mature audiences.
Originally from Marysville, Phillippi was always intrigued by local history.
"My Dad's a social science teacher," she said. "I guess it rubbed off on me too."
Phillippi earned her bachelor's degree in history with a minor in ethnic and gender studies from Emporia State University and a master's in history from Fort Hays State University before coming to Lansing.
In addition to other future projects with the historical museum, Phillippi is trying to gather funding to build a Kansas Regional Prisons Museum behind the current location.
NAME: Laura Phillippi
ADDRESS: 115 E. Kansas Ave., Lansing
OCCUPATION: Site Supervisor, Lansing Historical Museum
FAMILY: "Just my cat, Owens."
HOW LONG HAVE YOU BEEN IN LANSING, AND WHAT BROUGHT YOU HERE? "I moved here the day after Christmas, 2005. My job."
WHAT DO YOU LIKE MOST ABOUT LANSING? "The people are friendly and very helpful."
WHAT DO YOU DO FOR FUN? "Cooking and planting flowers when it's nice."
WHAT WOULD SURPRISE PEOPLE ABOUT YOU? "I know how to throw a headlock. I was a wrestling manager, and my Dad is a wrestling coach in Marysville. I might be small, but I can do it."
WHAT'S THE BEST ADVICE YOU'VE EVER RECEIVED? "Look both ways before you cross the street."
WHAT ORGANIZATIONS OR CLUBS DO YOU BELONG TO? Phi Kappa Phi (collegiate honor society), Pi Gamma Mu (social science honor society) and Phi Alpha Theta (history honor society)