Lansing High School's New Decisions program has received another boost from State Farm.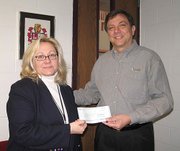 Last month, the school received a check from State Farm agent Dick Cameron for $2,980 to supplement funding for the program. It was the second consecutive year State Farm has donated to the program.
Now in its fourth year at the high school, the New Decisions program has a goal of helping students who have been identified by teachers, administration, parents or themselves as unsuccessful in school, for whatever reason. Teaching the students how to make healthier decisions is a major part of the curriculum.
The program stresses setting goals, communicating, teaching students to respect themselves and make choices against tobacco, alcohol, drugs and violence.
Funding for the program comes primarily from the Juvenile Justice Authority's Juvenile Prevention Grant, which is run through the 1st Judicial District, covering Atchison and Leavenworth counties.