Services for Ruth Dawes Elliott, 79, Lansing, will be at 9:30 a.m. Monday, March 12, at Chapel of the Veterans, Leavenworth. Burial will be in Mount Muncie Cemetery, Lansing.
Mrs. Elliott died Wednesday, March 7, 2007, at her home.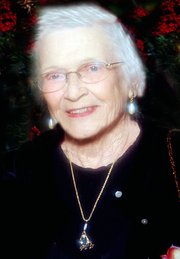 She was born March 6, 1928, in Leavenworth, the daughter of Joseph J. and Ruth (Howard) Dawes.
Mrs. Elliott was a lifelong resident of the Leavenworth area and attended St. Mary's College. She was a former president of the Leavenworth County Women's Democratic Club and Daughters of the American Revolution. She was an avid bridge player.
On March 9, 1948, she married William "Buck" Elliott; he survives.
Other survivors include her four sons, Tom Elliott, Lenexa, Randy Elliott, Lansing, Chris Elliott, Leavenworth and Jeff Elliott, Lenexa; a daughter, Lou Ann Nesheim, Aurora, Colo.; a brother, Ben Dawes, Leavenworth; four sisters, Jean Will, Leavenworth, Barbara Moore and Kate Dawes, both of Tucson, Ariz., and Ann Kelly, Alexandria, La.; nine grandchildren; and a great-grandchild.
A son, Rick Elliott, died earlier.
The family will receive friends from 4 p.m. to 6 p.m. Sunday, March 11, at Davis Funeral Chapel, Leavenworth.
The family suggests memorials to Leavenworth Hospice, sent in care of the funeral chapel, 531 Shawnee, Leavenworth 66048.