Fort's new commander selected
Fort Leavenworth — A new commanding general has been tapped for Fort Leavenworth.
Defense Secretary Robert Gates on Tuesday nominated Maj. Gen. William B. Caldwell IV as commanding general of the U.S. Army Combined Arms Center, Fort Leavenworth.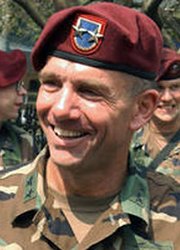 Caldwell is currently serving as deputy chief of staff for strategic effects, Multi-National Force-Iraq, Operation Iraqi Freedom.
With his nomination comes a promotion to lieutenant general, contingent upon confirmation by the U.S. Senate.
Janet Wray, a spokeswoman at Fort Leavenworth, said no timetable had been released for when the Senate will take up Caldwell's nomination or when he was expected at Fort Leavenworth.
Caldwell will take over a spot most recently filled by David Petraeus, who now is the commanding general of U.S. forces in Iraq. Petraeus, who earned his fourth star with the promotion to his current post, left Fort Leavenworth five weeks ago. Since then, Brig. Gen. Mark O'Neill has been the fort's interim commander.
Caldwell might be known to many as an Army spokesman in Iraq. Since taking on his current duties in March 2006, Caldwell frequently has been in front of television cameras to give the Pentagon's account of missions in Iraq. He was the main military spokesman in Iraq, for example, when a U.S. airstrike killed Abu Musab al-Zarqawi, one of the most-sought-after terrorist suspects in Iraq.
Before going to Iraq, Caldwell commanded the 82nd Airborne Division at Fort Bragg, N.C. During his tenure with the 82nd, he led military efforts to help in the aftermath of Hurricane Katrina in New Orleans.
Caldwell was commissioned in the Infantry upon graduation from the U.S. Military Academy in 1976.
He also has served as senior military assistant to the deputy secretary of defense;, Washington, D.C.; deputy director for operations, J-3, U.S. Pacific Command, Camp Smith, Hawaii; assistant division commander (operations), 25th Infantry Division (Light), Schofield Barracks, Hawaii; and executive assistant to the chairman of the Joint Chief of Staff, Washington, D.C.
Caldwell has a master's degree in systems technology from the U.S. Naval Post Graduate School. He is a 1987 graduate of the Command and General Staff College, and a 1988 graduate of the School of Advanced Military Studies, where he received a Master of Military Art and Science degree. He also served a Senior Service College Fellowship at the John F. Kennedy School of Government at Harvard University.
Among his awards and decorations are the Distinguished Service Medal, the Defense Superior Service Medal (with 2 Oak Leaf Clusters), the Legion of Merit (with 2 Oak Leaf Clusters), the Bronze Star Medal, the Defense Meritorious Service Medal, the Meritorious Service Medal (with 3 Oak Leaf Clusters) and the Joint Service Commendation Medal.