Jackson has high hopes for
LHS

next year
"Wait 'till next year," is a phrase no senior likes to hear when the discussion involves his or her sports team, but that's the reality that Jeff Jackson had to face after playing his final high school basketball game at Lansing High on March 1.
That's when Jackson, the only senior on the LHS boys basketball team, had his prep career come to an end with a 36-35 loss to Bonner Springs at Johnsmeyer Gymnasium in the first round of the Class 5A substate tournament.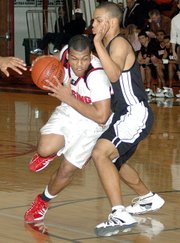 Jackson scored four points in his final game, one in which sophomore teammate Clayton Hall sank five three-pointers and scored a game-high 19 points.
It's that parity in scoring that, in a way, explains just why Jackson's Lions will have to wait until next year to have a breakthrough season. Hall and every other varsity player except Jackson will return next year. On paper, the roster appears loaded with talent and experience.
When Jackson enjoys seeing that talent reach its full potential, however, he'll have to enjoy it from a seat in the stands when he comes back to watch as an alumnus. That's a harsh reality to face, but it's one that Jackson said he looks forward to.
"I'm really excited to see what these guys do, because they've got so much potential to do well," Jackson said. "They're so young, and with everybody returning :"
If next year's team is vastly improved, then it will owe plenty of its success to Jackson, LHS coach Rod Briggs said.
Briggs said all season that the Lions only would go as far this year as Jackson led them. The first-year coach said Jackson was instrumental in Lansing shrugging off an 0-6 start and winning eight of its final 15 games. It's a turnaround that's even more impressive considering Jackson was one of two returners who'd ever stepped on a varsity court prior to this season.
"We couldn't have done it without Jeff Jackson this year," Briggs said. "I don't think we would've been successful without him. He was such a key component to buying into the coaching and being enthusiastic about the season and the team."
Jackson's attitude and enthusiasm rubbed off on his teammates.
"We'll miss him a lot," said junior forward Stephen Didde. "All along he was helping us. He was really there. He was the first to practice all the time. He was a good leader and he really did a good job this year. Especially with such a young team he had to really carry us along."
In addition to averaging a team-high 8.1 points per game, Jackson also earned a spot on the All-Kaw Valley League first team.
Jackson said he'll miss playing basketball at Lansing, but he said he's leaving the team in good hands.
"It's going to be the same team, but a lot better," he said.