March Madness begins
Parks and Recreation hoops tournament closes season at
LAC
March Madness was in the air Sunday afternoon as Parks and Recreation basketball teams from Lansing and Leavenworth provided a thrilling prelude to the NCAA Tournament Selection Show.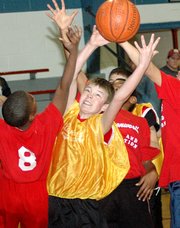 In the hours leading up to the announcement of college basketball's Field of 65, local fifth- and sixth-grade basketball teams squared off in the annual Lansing-Leavenworth Tournament at Lansing Activity Center.
"It's March Madness time, so everybody's really focused on basketball," said Doug Portenier, coach of the Lansing Red Knights. "To me, that really adds to it. The kids were all geared up for it, and everybody was ready to go for a big weekend."
Unfortunately for the Red Knights, their season came to an end in the semifinals of the boys' tournament when they lost to a tough game to Leavenworth Dougherty, 26-20.
"It was a very worthy opponent," Portenier said. "We feel very fortunate to play them and do as well as we did."
Despite the loss, the Red Knights were the highest finishing Lansing team in the tournament. That was something Portenier said his team was proud of.
In addition to their tournament showing, Portenier said his players should be proud of the way they performed throughout the season. They posted an 8-2 record and bonded as a team.
"I had a great group of kids and a great group of parents to work with this year," he said. "It was truly a joy all year."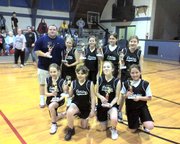 Team members were Dustin Galichia, Tim Roberts, Josiah Nowlin, Bailey Miller, Andrew Renyer, Jonah Nowlin, Jacob Patton, Adam Patterson, Cole Portenier and Tanner Sass. Tim Roberts Sr. was the team's assistant coach.
Although the Red Knights were the top boys team, the highest overall Lansing placer came in the girls tournament. Bryan Pettis' squad placed second.
Pettis's team went 7-3 this season. It's a feat he said was more impressive because four of his eight players were new to the team. Two of them never had played basketball before.
"They were a blast to coach," Pettis said. "They did a heck of a job."
Team members were Abby Hilliard, Katie Parks, Kaitlyn Pettis, Jena Hinkley, Taylor Martin, Ashley Linaweaver, Kelly Miracle and Renee Johnson.