Slammers shine at Liberty Nationals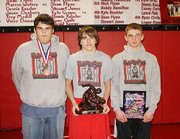 The Slammer Wrestling Club competed at the Liberty Nationals Tournament on Feb. 24, and three local wrestlers were among the event's top performers.
The tournament, which took place at Municipal Auditorium in Kansas City, Mo., featured some of the top youth wrestlers from the Midwest, including three Lansing Middle School eighth-graders.
Tyler Baughman placed first in the 14-and-under, 140-pound division. Nathan Wessel placed third in the 14-and-under, 165-pound division. Zach Hammer placed fifth in the 14-and-under 265-pound division.