Gilman goes pink with ink
Delivery driver was on way to Hallmark when messy spill occurred
A delivery truck carrying ink to the Hallmark plant in Leavenworth County got into a messy situation last week in Lansing.
Ink the truck was carrying Friday, March 16, began to slowly leak on to U.S. Highway 73, just outside of Lansing. By the time the driver, 31-year-old Benjamin Lopez of Overland Park figured out ink was leaking, the ink had pooled behind the truck and made a pink mess of a Gilman Road gutter.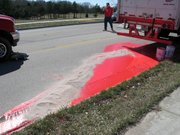 "It's still on the road," Police Chief Steve Wayman said Wednesday, five days after the incident. "It's supposed to be water-soluble. Time will wear it down, they tell us."
The ink was being transported in barrels in the back of a truck. At some point during the drive, a couple of the barrels shifted, causing the barrels to leak.
When Lopez realized something was wrong, he pulled off U.S. 73 and stopped on Gilman Road to evaluate the situation.
Lopez initially tried to stop the leak on his own, but his attempts were futile. He wound up getting covered in the ink.
Leavenworth County Fire District No. 1, Lansing Police Department and a biohazard crew arrived to assess the problem as well. The biohazard crew was called because no one knew if the ink was toxic.
Fire Chief Rick Huhn said the ink was being transported to the Hallmark plant to be used for wrapping paper.
"It's environmentally friendly, except when it gets on the street," Huhn said.
The cleanup was a slow process. Officials attempted to use other absorbent materials that are typically used for spills, but nothing was stopping the ink.
Crews were at the scene of the accident well into Friday afternoon.
The color of the spilled ink was created by a mixture of two colors, Wayman said.
"A bright red and a white ink sloshed around back there, and it came out fuchsia. Next time, since it was St. Patrick's Day, they have to get the right mix for green," he said.
- Abbie Stutzer is a University of Kansas journalism student whose stories will appear this semester in The Current.