Fun Run returns for second year
Lace up your sneakers. The Lansing Fun Run is back.
The event, which made its debut last spring, will take place at 8 a.m. Sunday, April 15, at Towne Center. Just like last year, it will raise money for playground equipment at the new Lansing Elementary School.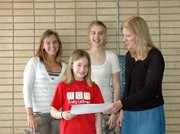 "Everything's pretty much the same (as last year)," race organizer Vickie Kelly said.
The 5K run will begin and end on Centre Street and take runners down West Mary Street past the site of the new elementary school. A one-mile course also will be offered for runners and walkers, and it will take competitors from one end of Centre Street to the other and back.
A Lansing Elementary School kindergarten teacher, Kelly has enlisted the assistance of numerous people from Lansing School District for this year's race. Students in Lansing High School woodworking teacher Aaron Wecas' class are designing a plaque for the race winner. Lansing Intermediate School fourth-grader Jena Goebel crafted the design - an adidas running sneaker with a lion paw on it - that will appear on the race T-shirts. Students in LHS teacher Dustin Meyers' marketing class are helping promote the event. LHS Leadership freshmen Kari Kelly and Elle Hauver also are helping organize the event.
"It's a real community effort," Vickie Kelly said.
In addition to school support, she pointed out that Lansing Kiwanis is providing post-race snacks and Petro Deli is donating water for race workers.
Last year's race had 100 participants, and Vickie Kelly said she hopes to see that total double this year.
Interested runners may register online at active.com. Cost is $20 and includes a T-shirt.