LHS

senior is 1st runner-up at Kansas Jr. Miss Pageant
Lansing High School senior Elizabeth Cristiano said she wasn't disappointed with her first runner-up finish in this past weekend's Kansas Junior Miss 2007 pageant.
After all, Cristiano said, the pageant helped her fulfill a longtime dream.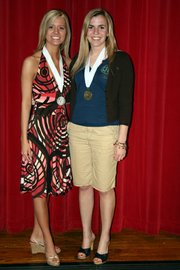 "When I was younger, I had always gone to watch babysitters and friends compete in the Leavenworth Junior Miss Pageant," Cristiano explained. "The year I was eligible, though, was the year it was canceled."
Cristiano, though, was able to win an invitation to this year's state pageant, which was staged in Belleville.
Jammie Layman of Marysville was crowned Kansas' Junior Miss and received a $3,000 cash scholarship, the official Junior Miss Medallion, and all expense paid trip to Mobile, Ala., for the right to compete in the America's Junior Miss Pageant later this year.
In all, 11 high school seniors competed in the 47th annual Kansas' Junior Miss scholarship program.
Cristiano received an $800 scholarship as runner-up. She also received the overall scholastic award, which was $400, and the community service award, $100, for a total of $1,300 in scholarships.
"Just being able to dance, to be on stage instead of athletics for a change, was wonderful," said Cristiano, who competes in volleyball, basketball and soccer at LHS.
She spent most of the week of March 12 in Belleville, meeting her fellow contestants and host families and practicing for the competition.
"It was a little bit hectic but a lot of fun," she said. "Everybody was so nice, especially my host family. : It was quite the experience."
Cristiano said she wasn't certain whether competing in pageants was a one-and-done experience, but said she did want to help get the Leavenworth pageant back on solid footing.
"I would really like to contact people and get it started in our community," she said. "It'd be good to get it started up again."