Lions eye inaugural
KVL

title
League championships are nothing new for the Lansing High girls soccer program.
The Lions won two Northeast Kansas Soccer League titles during the league's five-year history.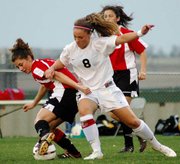 A new league crown is on the market this season, however, and Lansing wants to place dibs on it first.
With the addition of programs at Bonner Springs and Tonganoxie this year, enough Kaw Valley League schools sponsor girls soccer for the league to endorse it, too.
Mill Valley, Immaculata, Basehor-Linwood and Piper also have girls soccer teams.
With seven KVL schools on board, the NEKSL is splitting up and the first Kaw Valley League girls soccer championship is up for grabs this season.
That's a big deal to Lansing.
"We would like to be the first (to win it)," fourth-year LHS coach Rob Elkins said. "But there's a bunch of KVL teams that are really good, too. Basehor has improved quite a bit, and Piper has a lot of potential."
First up for Lansing in its quest for a league title is a 4 p.m. Tuesday game at Mill Valley.
"We all think it may be the deciding game of league, so hopefully we'll get that one," senior captain Elizabeth Cristiano said.
LHS doesn't have much time to prepare for Mill Valley, and distractions abound with spring break being this week, but Elkins said he was glad that at least both schools had spring break at the same time this season. In previous years Mill Valley had its break a week earlier than Lansing, thus players had a full week of practice together prior to the game.
Most of the Lions are in town this week, though, so attendance has been large at practice. Elkins hopes that will benefit his squad in its season opener.
Also working to Lansing's advantage is the fact that it returns almost its entire starting lineup, although Elkins said he might juggle around a few positions. The only starter not back from last year's 9-7-2 squad is senior Michaela Bristow who opted not to play this season.
The Lions return three All-State players in junior goalkeeper Katie Nietzke, senior defender Abby Hauver and senior midfielder/forward Bianca Manago. Both Hauver and Manago are second-year captains with Cristiano and fourth-year varsity players.
Other returning starters include seniors Kayla Pina and Kristen Huffman and juniors Christine Cordes, Lauren Elkins and Rachel Pride.
Even though the Lions are loaded with experience, Rob Elkins said he plans to adjust the lineup a bit from last year. His team struggled to finish scoring opportunities last year, so this year he will utilize three forwards with Cordes, Manago and Lauren Elkins playing up top.
Cordes led Lansing with six goals last year, and Rob Elkins said she should be even more effective this season because she is faster and in better shape than ever before.
"She's really looking good this year," he said. "She got some speed somewhere. I don't know where it came from, but the first practice they came in after basketball substate ended was our traditional Ray Miller practice where we sprint the hills at Ray Miller Park. Chrissy was out at the front. I was amazed, so I'm really excited about that."
In addition to returning starters, the LHS roster is loaded with depth and experience. With 39 girls out this year, the program is larger than it has ever been. That depth - which includes three freshmen (Allison Dillon, Katelyn Griffen and Briana Hall) on varsity - should make the Lions even tougher.
"There's been a lot of competition for the varsity spots this year," Hauver said. "You really have to work for your position now."
The mix of youth and experience is a blend that Rob Elkins said might be just enough to help the Lions not only win a league title, but also make some serious postseason noise.
"This could be the season that we go far," he said. "Could be :"