Mayor lends hand to Meals on Wheels
Lansing Mayor Kenneth Bernard distributed meals to senior citizens Wednesday in recognition of Mayors for Meals 2007, a national initiative sponsored by the Meals on Wheels Association of America.
Bernard joined Leavenworth Council on Aging representative Judy Guenther on the regular Meals on Wheels volunteer route, which provides 25 Lansing seniors and over 250 seniors countywide with a daily, well-balanced meal.
"The program provides a service for those that can't get out or don't have relatives in the area," Bernard said. "This way, someone can check on them every day and provide a good meal for them."
For Lansing resident Genevieve Krebs, the program has meant a welcome house call and a fresh lunch five days a week.
Krebs, who underwent two back surgeries and is not able to stand well, has utilized the program the past year.
"My son said, 'We've got to find a way for you to eat. You're not just going to sit in the hospital,'" Krebs explained.
Her son pays the requested $1.50 donation for each meal.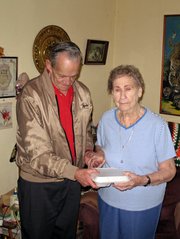 "(Meals on wheels) has done really good by me," Krebs said. "They sure are nice people who make the deliveries."
According to Julie Angello, a dietician with the Council on Aging, each meal is carefully selected to include one-third of the recommended daily allowances of certain nutrients and must meet guidelines set forth by the Kansas Department on Aging. The meals usually include some type of meat, two starches, fruit, vegetable, milk and an optional dessert.
To qualify for the program, which has been in operation for more than 30 years, a resident must be over 60 years of age and homebound. If someone is not homebound, they can visit one of four nutrition sites in the county, where the a meal is provided at the same price. If the individual is unable to drive, the Council on Aging can provide that transportation, Guenther said.
A senior wanting to request Meals on Wheels service is encouraged to call (913) 684-0777.