Parade offers more than touch of Irish
This year's annual Leavenworth St. Patrick's Day parade had a special visitor.
John McCrann, commandant in the Irish Defense Forces, was the honorary grand marshal of the parade.
"There's been a tradition that all Irish officers that have come here over the years have been honorary grand marshal," said McCrann, who is a student at the Command and General Staff College at Fort Leavenworth.
Some years there are no Irish officers in classes, but when there are, they usually participate in the parade, he said.
Grand marshals of the parade were Allan and Margaret Liebeno.
Darlene Kenny, Lansing, one of the organizers and founders of the parade, said the grand marshal was chosen based upon the support given to the parade and community involvement.
Along the parade route Saturday in downtown Leavenworth, Monica Savidge, Leavenworth, said she had been attending the parade since the 1980s.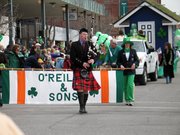 Savidge said her favorite part of the parade was "to see all the participation" because it keeps growing every year.
Kim Watkins, Lansing, said she had been coming to the parade for 10 years.
"The motorcycles are what went over well with my son," she said.
The parade also included, among other things, classic cars, a band, dogs and horses and several floats.
One horse was dyed green.
Men dressed in traditional Irish clothing marched and played bagpipes.
Kenny said this year's parade was "absolutely the biggest we've ever had."
Each year, money raised by selling shirts, hats and other small items associated with the parade is donated to charity, she said.
Again this year the money donated to St. Vincent's Clinic and the Leavenworth Assistance Center, Kenny said.
The parade has been donating to St. Vincent's since 1986 and has given the clinic more than $35,000 to date, she said.
- Kim Lynch is a University of Kansas journalism student whose stories will appear this semester in The Current.