Positions a mystery, talent a certainty
When it comes time to determine a starting lineup for the Lansing High softball team, the coaches just might draw names out of a hat.
That's how wide-open it is at virtually every field position. Sophomore Brittney Lang and freshman Rachel Milnark will pitch, but beyond that the lineup is a mystery.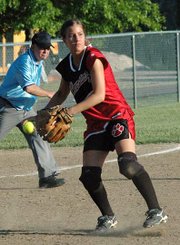 That's not to say the Lions are lacking in talent this year, however. According to third-year varsity player Morgan Chiles, the situation is just the opposite.
"Anyone can play anywhere," she said. "It's just a matter of finding the point where everyone is playing their strongest spot or second-strongest spot."
Added third-year varsity player Amanda Darrow: "The team's pretty diverse. We have a very athletic team."
Chiles and Darrow are Lansing's most experienced players. Chiles started in the outfield as a freshman and played third base last year. Darrow started at second base her freshman year and then moved to shortstop as a sophomore.
Both were key contributors to last year's squad that went 16-7, won the Kaw Valley League championship and advanced to the Class 5A state tournament.
Chiles and Darrow know they will be expected to do even more this season as leaders. Lansing had five seniors last year - pitcher Dana Sanders, catcher Nichole Twitchel, second baseman Kasey Denney and outfielders Jessica Stark and Nicole Holland. In contrast, there are no seniors this season. That means the leadership duties will fall to the juniors.
"Us juniors are going to have to take a big step up," Chiles said. "It's going to take a big step from us to get everybody ready to go to state. There's a lot of young kids, and we're going to have to be leaders to them and help them know what to expect at state."
The Lions also will look to juniors Sara Logan and Jasmine Holland for leadership. Like Chiles and Darrow, both Logan and Holland are in their third year on varsity. Holland has been a reserve outfielder the past two seasons. Logan was called up to varsity midway through her freshman season, and she started in right field as a sophomore.
Darrow said a return trip to state is a realistic goal despite having such a young team and so much uncertainty at positions right now.
"Our expectations are still high," she said. "I believe the team we have right now is just as good as we had last year."
LHS opens its season at 4:30 p.m. March 29 against St. James Academy at Mid-America West Sports Complex on Johnson Drive in Shawnee.