Rebuild or reload?
Return trip to state tournament hinges on performance of young players
Everything came so easy to the Lansing High baseball team last year.
The Lions had a roster loaded with experience and talent. Most important, they had proven pitchers they could rely on to shut opponents down when the bats weren't clicking.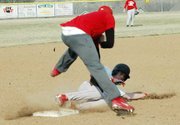 As a result, they qualified for the state tournament for the first time since 1995, posted a 15-8 record and ended its season with a 9-4 loss to eventual state champion Topeka Seaman in the state quarterfinals.
This season won't be nearly as easy for LHS. Its top two pitchers are gone, as are a slew of experienced field players that proved to be reliable. Now it's up to the program's younger players to step up and fill those holes. Second-year coach Troy Andrews said he expects that to happen, although he admitted it will take time.
Regardless, Andrews said the team's goal is to return to the state tournament.
"Every program has that goal, and we have the same goal," he said. "Everything we do is going to be geared toward that at the end of the year. We've just got to continue to get better, and our focus and our intensity has got to get better for practices."
Lansing returns just three starters in second baseman Johnny Stratton, third baseman Kyle Miller and right fielder Tylor McNeill.
"We really need to step up and realize that those spots are gone, but we still have to work hard to fill their shoes," McNeill said. "Everyone's going to have to step up in practice and show who wants it the most. That's what it's going to come down to."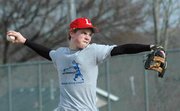 The returning starters are expected to lead, but the underclassmen will have to carry quite a bit of the load, too. A number of sophomores and juniors will be asked to play major roles for the Lions this season.
An underclassman who already is emerging as a likely go-to guy is Taylor Majure. He has been one of the best pitchers during early practices, but his versatility also could make him useful at catcher and any of the infield positions.
"Taylor's going to be one of our sophomores that's going to step up," McNeill said. "He knows there's shoes to fill, and there's a lot of places we can put him. He's a good utility player to have."
It's likely that one of Majure's roles will be pitching. Senior Matt McMillin also will carry some of the load on the mound. He possesses the most experienced arm on the roster.
Junior transfer Kevin Johnson and sophomore Chris Grady also have looked sharp early and are expected to fill vacancies in the outfield.
Although the bats haven't been crisp yet, Miller said he doesn't expect hitting to be a problem once the season begins. He and Stratton possessed two of the most consistent bats in Lansing's lineup last year, and McNeill finished the season on a tear.
"I think we have one of the best lineups in the league," Miller said. "But we have to play solid defense behind the pitchers. It's not going to be double-digit strikeouts from pitchers like it was last year. It's going to be one or two a game, and we're going to have to play the field real strong."
Miller emphasized the importance of Lansing winning its season-opener against Immaculata at 4 p.m. April 2 at LHS to build confidence early.
"We need to get off to a good start," he said. "We need to go 2-0 against IMAC, and then we can roll on from there.