Rees places third at state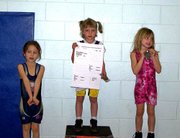 Bailey Rees, at left in above photo, placed third in the 43-pound weight class at the United States Girls Wrestling Association Kansas state championships on Feb. 25 in McPherson. Rees, 5, is a member of the Leavenworth County Spartans Wrestling Club. She became the club's first member to place at a state tournament.
Two other area wrestlers also placed at the tournament. Paige Herrera of Tonganoxie placed second at 56 pounds. Danielle Mann of Tonganoxie finished third at 107 pounds.