Baughman, Wessel fall in finals at state
Two members of the Slammer Wrestling Club narrowly missed winning state championships Sunday at the USA Kansas Kids State Tournament at the Kansas Expocentre in Topeka.
Lansing Middle School eighth-graders Tyler Baughman and Nathan Wessel both placed second in their respective weight classes in the 14-and-under division. Baughman was pinned by Sean Gaither of the Northwest Junior Grizzlies in the 140-pound finals. Wessel dropped a 5-3 decision against Tate Omli of Ottawa County at 155 pounds.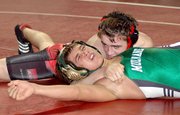 "They were two heartbreakers," Slammers coach Aaron Yoakam said of the losses in the finals. "Tyler took second last year, and Nathan didn't even wrestle last year except for the middle school season, so he came out and wrestled kids club and had a great run. He really started to peak when he took third at Liberty Nationals."
Baughman also did well at Liberty Nationals, placing first in his weight class. Neither Lansing wrestler was quite able to replicate those performances Sunday, however.
Yoakam said he and fellow Slammers coaches Tom Baughman, Dennis Wood and John Johnson were proud of both wrestlers for having such strong seasons even though they ended with a loss.
"Tyler took it to heart really hard," Yoakam said, noting that Baughman was the runner-up last year at 130 pounds. "There's nothing you can say besides 'you had a great season and came up one win short of your goal.'"
The state finals marked the third time this season Wessel had lost to Omli, and Yoakam said it was the closest of the three matches - a sign of improvement.
"Nathan came off the mat and first thing he said was he didn't have enough movement, didn't wrestle his match," Yoakam said. "He wrestled a bit passive because he'd wrestled the guy before and lost twice before, but it was still a really close finish."
A third Slammer, Lansing High junior Brad Terron, placed third at 215 pounds in the 16-and-under division. Terron lost his first match of the tournament to Luke Keener of Hoisington. He then won four straight matches to place third. The final victory came as a bit of redemption as Terron avenged his earlier loss to Keener.
"It's a long road if you lose that first match," Yoakam said. "It's a long road just to come back and get into the medal rounds, and to come all the way back and not just medal, but medal as high as you can with a loss, that's pretty impressive."
Four other Slammers competed at state but did not medal. Elijah Hill posted a 2-2 record at 58 pounds in the 10-and-under division. Jared Johnson went 1-2 at 100 pounds in the 12-and-under division. Tyler Terron was 1-2 at 130 pounds in the 12-and-under division. Zach Hammer went 0-2 at 265 pounds in the 14-and-under division.