Lansing High School sophomore Cody Morlan was perusing through the Jostens class ring brochure when one caught his eye - it was hard to miss.
"Sheer Ice," a championship-ring that was delivered to sophomores at his school Tuesday morning, resembles a Super Bowl ring studded with diamonds.
"You can hold it," Morlan said, "But don't drop it."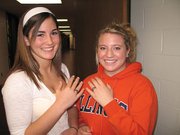 He said he liked the ring because it stood out, and said he'd probably wear it until he goes to college.
The diamonds and the flash are part of a recent trend that has caught on the past two years, said Dena Provow, Jostens office manager.
She said Jostens even sells "Bling Bling Tassles" to seniors.
"Anything that flashes, they want it," she said.
Taylar Deere and her friend Keasla Hundley, both LHS sophomores, have a ladies version of "Sheer Ice." Their $400 rings hold a Rose Zircon gem surrounded by 12 .5 point cubic zirconias or diamonds.
"My parents still have their rings, and I'll probably get a college one too," Deere said.
Some students purchased or chose a ring for sentiment; others would rather save the money.
"I don't want to waste my money on something I'm only going to wear for two years," said sophomore Kyle Wilcott.
Jeff Collins, senior, said he wears the ring his parents bought him for "dressy occasions."
"My parents wanted me to have one," he said. "They said I don't need it, but I'll want it later."
"I wanted to remember high school and I thought it was cute," Kenzi Smith, Lansing sophomore, said about choosing her ring.
Senior Kyle Grape said he gets more use out of his letter jacket.
"It's better," he said.