FBLA

students ready for state
Matt Humphreys enjoys competing. That's the reason he joined Lansing High School's Future Business Leaders of America organization.
"I joined because I saw 'competitions' on a flier for FBLA my sophomore year," the senior and FBLA president said.
As it turns out, he's a strong contender.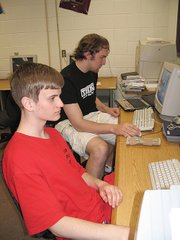 Today, he will try to reclaim his first place position in the category of business ethics at the FBLA state competition in Topeka.
Sue Lednicky, FBLA sponsor at LHS, is taking 23 students to Kansas Expocentre. Last year, the team placed fifth in the state, which surprised Lednicky because they were one of the smaller schools competing, she said.
Unlike some of the larger schools, her students take more than one test. She said judges consider those efforts at the end of the competition. Students must qualify in the top 10 to move to the final round.
This year, she said she would "just like to be able to see her kids place and take them to nationals."
The competition requires students to perform written and oral tests in career and business-related areas. Her students will take tests in everything from business law to parliamentary procedures.
Zach Beall, freshman, will compete in the latter, also known as Party Pro, which focuses on organizing professional meetings.
New this year, are "home tests." Before the competition, student groups had to complete a timed desktop publishing project. The students had to create a brochure, business card and menu, Lednicky said.
"Those tests are good because they are learning that stuff in my classes already," Lednicky said. "It's reinforcement that it's not just me grading hard, but good work is expected and they find out they don't have one week to do something - they may only have one or two hours."
Lednicky said FBLA was beneficial for students to learn how to work in the business world and to overcome personal challenges, such as public speaking.
"I tell them you're never going to know unless you try," Lednicky said. "You may fall flat on your face, but you learn from it."