If only the Leavenworth County Spartans were a stock.
Yes, the Spartans - the area's newest kids wrestling club - were a hot new commodity on the wrestling market this season.
The organization launched in the fall with the hope of attracting 35 to 40 interested wrestlers. The team roster ramped to 135.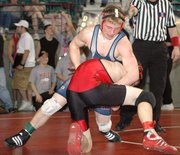 Fourteen of those wrestlers qualified for the USA Kansas Kids State Tournament, and five brought home medals. Two of them won state championships on Sunday.
Phil Witt won a state title at 165 pounds in the 16-and-under division and Bo Pursel placed first at 84 pounds in the 12-and-under division.
In addition, Nick Flynn placed third at 145 pounds in the 16-and-under division, Spencer Blew placed sixth at 115 pounds in the 14-and-under division and Brett Johnston placed sixth at 245 pounds in the 16-and-under division.
"I was proud of all of the kids," Spartans head coach Shawn Budke said. "They all worked real hard. We ended up qualifying 14 for the state tournament, and I'm so proud of them for the hard work and effort they put forth."
For Pursel, the title was his third in four years. He defeated Dylan Schumacher of Hays in the finals.
Witt's championship came a month after he placed second at the high school Class 6A state tournament for Leavenworth High. Witt beat Joey Hambleton of Parsons on Sunday in the finals.
Similar to Witt, Flynn's third-place finish comes on the heels of a runner-up finish at the Class 5A state tournament for Lansing High. For both Flynn and Witt, this year's state tournament was their final folkstyle tournament for kids club. Both will be too old to compete next year.
"To see the growth and maturation in those guys has been great this year, and it was a great way to close out their kids folkstyle careers," Budke said. "They've put in a lot of blood, sweat and tears through the years and it has paid off for them."
Nine other Spartans competed at the state tournament but did not place. They are Daniel Butler, Clayton Himpel, J.T. Core, Dillon Scanlon, Cullen Demarest, Jesse Woodruff, Grant Hinckley, David Wilk and Tyler Strouhal.
A week prior to the state tournament, also considered "big kids" state, the 6-and-under state tournament took place. Three Spartans medaled at that meet. Ewan Cornstubble was a state champion at 95 pounds and Josiah Spain placed sixth at 40 pounds. Bailey Rees placed third at 43 pounds in the girls' division.
NOTE
In addition to a state title, Pursel won a special award Sunday when he became one of wrestlers to win the inaugural Kansas State Triple Crown. The triple crown is presented to wrestlers who win kids club state titles in folkstyle, freestyle and Greco-Roman wrestling in the same year. Being that this is the first time the award has been offered, winners were allowed to count freestyle and Greco titles from last year.