Despite rain, Lions shine at Baldwin Invitational
Baldwin — Lightning and heavy rain brought an early end to the Baldwin Invitational just as the Lansing High track team was starting to pick up steam Friday night at Baker University.
After a slow start to the meet, the Lions strung together a series of high finishes.
Junior Bobby Hauver won the pole vault with a jump of 10-foot-6. Senior Kyle Buehler cleared the same height but finished fifth.
Junior Will Johnson had a career-best effort in the triple jump when he placed second with a jump of 41 feet, 2 1/4 inches. Johnson also placed seventh in the high jump with after clearing 5-foot-6. Junior Eric Watson placed fifth in the javelin with a throw of 137-9. The LHS boys also had high finishers in two running events. Freshman Brandon Craig passed nine runners during the final lap of the 1,600-meter run and placed fifth in 4:58.19. The 400-meter relay team of Brenton Smith, Chris Hill, Cody Filbert and Johnson placed second in 46.56 seconds.
The LHS girls also had multiple placers. Senior Erin Rogers placed second in the pole vault after clearing 8-foot-6, freshman Lauren Jaqua placed sixth in the 1,600 in 5:54.37 and junior Meghan Sullivan finished sixth in the triple jump (29-9) and eighth in the long jump (14-6 1/2). In addition, the 3,200-meter relay team of senior Lori Flippo, sophomore Emilee Taylor, freshman Sarah Nielsen and senior Kara Ritchey placed sixth in 11:28.98 and the 400-meter relay team of freshman Jennifer Totleben, senior Riann Deere, sophomore Michelle Collins and freshman Madison Brandt placed fourth in 53.77 seconds.
Photo Gallery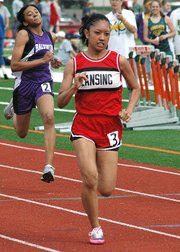 LHS track team competes at Baldwin Invitational
In addition to the placers, numerous Lansing athletes had qualified for finals in their respective events but were unable to finish because the meet was halted. Included among the Lions whose finals were washed out were three in the boys' 200-meter dash and Deere in the girls' 200-meter dash. Deere had the second-fastest overall time entering finals after blowing away the other runners in her preliminary heat.
Lansing next competes at 4 p.m. Tuesday when it plays host to the Lansing Invitational.