LHS

soccer falls to Blue Valley West
Despite lots of success during the regular season, the Lansing High girls soccer team never has made a march deep into the state playoffs.
With 10 starters back from last year's team and more quality depth on the roster than ever before, the Lions know this could be the year they make some postseason memories.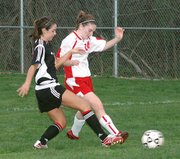 That's the very reason LHS coach Rob Elkins scheduled 2005 state champion and 2006 state runner-up Blue Valley West.
The Jaguars handed the Lions a 5-0 loss Thursday evening at Lansing Middle School, but Elkins said the positives outweighed the tally in the loss column.
"We got a lot of experience out of today's game," he said. "Some of our younger players got to spend a little more time out there and they did some nice things."
If history is any indication, the Lions certainly closed the gap with the Jaguars at least a little bit since last year's 8-1 drubbing.
"When you look at their roster, they had a lot of seniors on their roster so they brought a lot of veterans back," Elkins said. "And at the end of the game, their coach came over and said this is a much improved team over the one they saw last year."
Lansing (1-1) certainly looked like an improved team for a majority of the game. It struggled to string together passes on the offensive end, but the midfield and defense played tough for a majority of the first half while breaking up West attacks.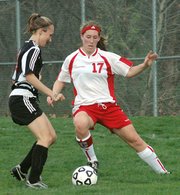 The game was scoreless for 25 minutes before West freshman Ashley Catrell received a pass 18 yards out, took three dribbles through the defense and snuck a shot past LHS goalkeeper Katie Nietzke for a 1-0 lead.
Catrell scored two more goals in the final 6:20 of the half, both on crafty moves through the defense. It was plays like that where Catrell showed why she was an Olympic Development Program National Team selection.
West's Sarah Linsin and Kelsey Applebaugh added second-half goals to extend the lead as the LHS defense continued to weather a steady Jaguar attack.
"They had such speed and they knew how to thread the ball through the defense, so the defense is really strengthening up from this game," senior defender and team captain Abby Hauver said.
Lansing next plays at 4:30 p.m. Tuesday against Immaculata at LMS. Elkins said he was eager to see his team return to Kaw Valley League action and clean up some of the rough areas that were exposed by Blue Valley West.
"It will give us an opportunity to improve our quality of play," he said of playing Immaculata. "That's what it's all about. That's why they call this the perfect game."
BV WEST EDGES LHS JV IN SECOND HALF
Despite holding Blue Valley West scoreless for a half, the Lansing High junior varsity girls soccer team dropped a 2-0 decision Thursday at Lansing Middle School. It marks the second straight loss for Lansing. The Lions lost to the Mill Valley Jaguars, 1-0, on Tuesday.