A perfect beginning
Lang fires perfect game, homers as
LHS

sweeps St. James Academy
Shawnee — Hollywood screenwriters couldn't have scripted a more perfect season-opener than the Lansing High softball team crafted Thursday afternoon.
Sophomore right-hander Brittney Lang hurled a five-inning perfect game. She received 14 hits of offensive support and Lansing rolled to a 14-0 victory over St. James Academy at Mid-America West Sports Complex.
Photo Gallery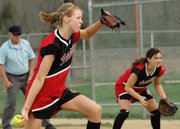 LHS sweeps St. James in season-opening twinbill
LHS also won the nightcap, 11-3, with freshman Rachel Milnark on the mound.
The consistent effort during the doubleheader sweep gave LHS coach Terry Cornett plenty to be happy about.
"All in all, when we can score 14 runs in the first game and 11 in the second game, that's not bad hitting," he said. "And everybody contributed. Everybody got to play. Everybody got a couple good at-bats. The second game they hit the ball a couple times and we made some good plays."
Lansing (2-0) had few opportunities to practice its defense in game one. Lang struck out 13 of the 15 batters she faced. The other two outs came from a grounder and a line-drive to first baseman Keasla Hundley.
Lang said she was pleased with the way she and her teammates dominated in their first game out.
"It starts off our season well and it gets things started on a good note," she said. "But the games are going to get tougher, so we've got to keep working hard in practice."
Offensively, the Lions plated runs in all five innings. Junior Amanda Darrow opened the game with a triple to left field that fell a few feet shy of the fence. She scored on a Milnark single, and Milnark scored on a double to left by Lang.
The Lions scored four more runs in the second inning during a stretch that was capped by an inside-the-park home run by Lang.
LHS scored two runs in the third, four more in the fourth and two in the fifth to cap the victory. Darrow and Lang led the offense with three hits apiece. Milnark, Morgan Chiles and Sara Logan each had two hits.
Lansing started a bit slower in game two as its first three batters struck out. Then the offense fired up again and the Lions quickly seized control.
Freshman Breanne Sanders gave LHS a 1-0 lead when she scored in the second inning. Junior Alyssa Donnelson smashed a solo home run in the third inning to make it 2-0, and then Sanders scored again. Morgan Chiles hit a two-run single in the fourth inning that extended Lansing's lead to 5-0. The Lions then added two more runs in the fifth, three in the sixth - including a solo homer by Milnark, and one run in the seventh.
St. James scored all three of its runs in the sixth inning by capitalizing on a walk and two errors, but it was too little too late.
Milnark struck out three during the complete-game effort, and she also went 4-for-5 at the plate. Jasmine Holland added two hits.
There were numerous highlights for Lansing on Thursday, but there was one that stood out more than others to Cornett. That was the play of new varsity catcher Katie Smith. Smith caught both games and was a wall behind the plate.
"I got what I expected out of Brittney," Cornett said. "But the pleasant surprise was Katie Smith. She knew she was under the gun, and I thought she did exceptionally well. Catching Brittney's got to be a challenge in itself, but I don't recall her having a passed ball. I don't think she had any. And she wasn't just focused on catching. She got some hits too."
Lansing next plays on Thursday, April 5, against Mill Valley at Lansing City Park in the Kaw Valley League opener.