1st-grade teacher lands award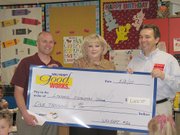 Lansing Elementary School first-grade teacher Linda Rumney was named the Leavenworth Wal-Mart's Teacher of the Year Award on Wednesday.
Across the country teachers are nominated by community members in honor of National Teachers Day on May 8.
Janette Fricke, community involvement coordinator for the Leavenworth Wal-Mart, said Rumney received more nominations than she's ever seen.
Wal-Mart manager Doug Portenier awarded Fricke with a $100 gift card to buy classroom supplies, a personalized certificate and a Teacher of the Year polo shirt. The school principal, Tim Newton, received a $1,000 grant from the company for the school.
Rumney's husband, Don, came to the school for the award presentation.
He said Rumney and other teachers often feel they are taken for granted, so this award would reinforce Rumney's hard work.
He said in the classroom, Rumney prides herself on reading and her student's excellent state assessment scores testify to her dedication.
Portenier read nominations written by parents and teachers aloud to the class and several teachers in attendance. Some of the letters said the students left her classroom at a fourth-grade reading level.
"I take the kids as far I can take them," Rumney said.
The Wal-Mart Teacher of the Year program is three-tiered. All local winning teachers can apply for state honors to receive a $10,000 grant for their schools. Each state winner is automatically entered into the national competition for a chance to win a $25,000 grant.