Lions set
KVL

standard
LHS

shuts out

THS

, claims inaugural Kaw Valley League championship
Tonganoxie — Katie Nietzke was taken aback by the news when informed that the Lansing High girls soccer team had wrapped up the Kaw Valley League championship Monday night.
"Oh really?" the LHS junior goalkeeper said. "Sweet!"
Nietzke logged her eighth shutout of the season as LHS blanked Tonganoxie, 8-0, at Chieftain Park. Senior Bianca Manago scored four goals in the victory, junior Rachel Pride had two, and junior Christine Cordes and freshman Allison Dillon scored one apiece.
Photo Gallery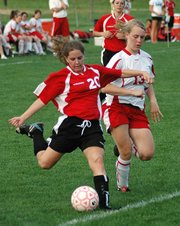 LHS soccer topples Tongie, 8-0
Lansing improved to 10-2 overall and 5-0 in the league with one KVL game remaining. The outcome of that game, a May 9 contest against Piper, will impact the Lions' regional seeding but won't alter the league standing.
Manago said being KVL champions in the league's inaugural season was a special feat.
"It was nice to set the bar for them and show them what Kaw Valley League is all about," she said.
LHS certainly set the bar high. Only one league opponent has scored on it this year. That was Mill Valley in the season-opener, a 3-2 Lansing victory. Since then the Lions have outscored their league opponents 31-0.
The high goal count looks great for the forwards, but Manago said it also is a reflection of the defense.
"We have an amazing defense," she said. "Even in games like this where it's an 8-0 shutout and most of the time the ball is with the offense, it's because we've got the defensive support. You can't have a good offense without a good defense."
Lansing defenders Abby Hauver, Elizabeth Cristiano, Kathryn Sebes and Briana Hall stifled a handful of Tonganoxie attacks and left Nietzke with little work to do.
Meanwhile, Manago buried her first goal 3:33 into the game off an assist from Cordes. Pride scored less than two minutes later of an assist from Hauver. Manago then pushed the lead to 3-0 in the 13th minute and the rout was on. Pride and Cordes added goals before halftime on assists from Dillon and put the lead well out of reach.
Lansing now turns its focus to a 6 p.m. match today against Gardner-Edgerton (4-9-1) and a 6 p.m. Friday game against Shawnee Heights (8-1-1). Both games will be played at Lansing Middle School.
Heights is ranked No. 3 in the state in Class 5-1A and was the 2004 state champion. Lansing entered the latest Kansas Soccer Coaches Association rankings Tuesday at No. 5.
"That's kind of going to be a litmus test for us to see where we stand going into postseason play," LHS coach Rob Elkins said.
JV TOPPLES TONGIE
The LHS junior varsity rolled to a 6-0 victory Monday over Tonganoxie. Freshman Anisha Patel led the way with three goals. Elle Hauver, Megan Hyde and Heidi Schultz also scored for LHS. Tayler Dumlao earned the shutout.
LHS improves to 5-4-1 with the victory.