Retiree angles for big catch
It's sometimes hard to know what to believe when talking to a fisherman. "The one that got away" can't always be measured.
The scales were proof, though, that Jim Kochanowski reeled in a 6-pound, 5-ounce bass on Saturday, April 14, at a Wal-Mart Bass League event in Table Rock, Mo., using a jig with a single-tail grub trailer as bait. The bass earned the Lansing resident the co-angler award for the biggest catch at the tournament.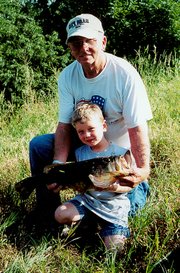 "That's my biggest catch competitively," Kochanowski said Wednesday. "But I caught an eight-and-a-half-pound bass in Grand Lake, (Okla.) and another in a farm pond once."
Kochanowski has competed in 40 tournaments since 1997 as a co-angler, meaning he draws to share a boat with another fisherman.
"All I do is bring my gear and load it in a boat there," he said. "It's a real neat way to go fishing without too much expense, and you can win a little bit of money, too."
Kochanowski has won more than $400 in two events so far this year. The next event is scheduled for this weekend, again at Table Rock.
The top 40 finishers in the 5-tournament division will advance to a regional championship in Fort Madison, Iowa, with a chance to win entry to the All-American event and over $50,000 in prize money.
Kochanowski took on an all-expenses-paid trip to the All-American himself in 2002 in Shreveport, La., and hopes to be invited again this year.
"I think I'll do pretty well," Kochanowski, who is 36th in the point standings this year, said of his chances.
As a kid growing up on a farm in Jarbalo, Kochanowski said he fished every day at a family pond. Now he enjoys going out with his son, Jim V., who also fishes competitively, and his three grandsons.
"I enjoy taking the grandkids out whenever we can," he said. "They're turning out to be pretty good fishermen themselves."
NAME: Jim Kochanowski
ADDRESS: 113 Ralph Drive
OCCUPATION: Retired, Fort Leavenworth
FAMILY: Ruthie, wife; Jim V., son; grandsons Wyatt, 12; Quentin, 8; and Parker, 2
HOW LONG HAVE YOU LIVED IN LANSING AND WHAT BROUGHT YOU HERE? "I was born in Leavenworth, have always been in the area."
WHAT DO YOU LIKE MOST ABOUT LANSING? "Just the quietness of the community the small town atmosphere although it's getting away from that. It's just a nice little place."
WHAT DO YOU DO FOR FUN? "I work at the (Kansas) Speedway three days a week cutting grass. I deer hunt, turkey hunt : and fish."
WHAT WOULD SURPRISE PEOPLE ABOUT YOU? "I'm a pretty open person. There's not much that people don't know. I've done it all or will try it all."
WHAT THE BEST ADVICE YOU'VE EVER RECEIVED? "The Golden Rule."
WHAT CLUBS OR ORGANIZATIONS DO YOU BELONG TO? AARP, Bass Anglers Sportsman Society and the Wal-Mart BFL (Bass Fishing League).