Youth-laden track squad eyes state possibilities
Tonganoxie — He might as well have been reciting his entire team roster, because that's about how many names Lansing High track coach Errol Logue listed when asked who impressed him the most at the Tonganoxie Invitational.
The LHS boys and girls both placed third in the team standings, but both squads had multiple performers turn in season-best marks that should put them in serious contention for berths in the state meet on May 25-26 at Cessna Stadium in Wichita.
Photo Gallery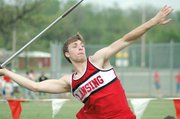 Tonganoxie Invitational
"We've been talking to them that way," Logue said of the state possibilities. "That's everybody's goal."
On Tuesday in Tonganoxie a handful of Lansing competitors posted marks that would have had them competing at state a year ago. Those athletes were pole vaulters Bobby Hauver, Kyle Buehler and Erin Rogers, 800-meter runner Adam Vordermark, 1,600-meter runners Lauren Jaqua and Sarah Nielsen and 100-meter sprinter Jennifer Totleben.
Both the boys and girls 3,200-meter relay teams also ran times that would've got them to state a year ago, although the boys were disqualified from the race for a rules infraction.
"They're young, and they're going to have to come under pressure to do the job and get to state," Logue said.
The girls' 3,200-meter relay team of Jaqua, Nielsen, Kara Ritchey and Lori Flippo placed third in 10:43. Meanwhile, the boys' squad of Brandon Craig, Brandon Mills, Griffin Davis and Vordermark ran an aggressive sub-8:40 before being disqualified.
Jaqua won the 1,600 in a career-best 5:40.80, and Nielsen was third in 5:58.45. Totleben placed second in the 100 in 13.49, just ahead of third-place teammate Michelle Collins' 13.52. Vordermark was the runner-up in the 800 in 2:03. Hauver won the pole vault with a clearance of 11-6, just ahead of runner-up Buehler's 11-0. Rogers finished fourth in the girls' vault with an 8-0 clearance.
Other top performers for LHS were Craig in the 1,600 (fourth, 4:56) and 3,200 (third, 11:13.84), Davis in the 3,200 (fifth, 11:15.87) and Riann Deere in the 200 (second, 27.79).