Tennis season ends at regionals
Bonner Springs — For one Lansing High tennis player, Thursday's Class 5A regional tournament at Bonner Springs High School marked the end of the road.
For the other five Lions who competed, it was simply a heavy dose of experience that is expected to pay off a year from now.
Photo Gallery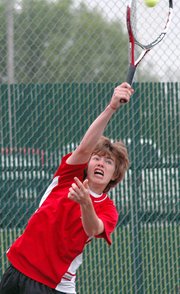 LHS tennis competes at 5A regionals
Senior Josh Robinson's career came to an end with a 6-2, 6-4 loss to Chase Campbell of Gardner-Edgerton in the first round of the singles bracket. Lansing's other singles player, junior Mo Meyer, also fell in the first round in a hard-fought three-set match to Tommy Nibler of Gardner, 6-1, 5-7, 6-3.
Meanwhile, Lansing's doubles team of junior Eric Hansen and sophomore Metin DePaolis lost in the first round to Tim Needham and Justin Eifert of Mill Valley.
Lansing's top performers were sophomores Ezra Carpenter and Clayton Hall. They earned the No. 9 seed in doubles but disposed of their first-round opponents from Sumner Academy, 6-1, 6-1. That set them up with a quarterfinal showdown with the No. 1 seed from Bonner Springs, Brett Johnson and Justin Martin. Despite taking an early game during the first set, Carpenter and Hall ultimately lost, 6-1, 6-0, and ended their season a match shy of state.
For a full look back at regionals, pick up the March 10 edition of The Current or visit lansingcurrent.com.