Believe the hype
Vordermark dreams big, eyes relay school record
Spend a few minutes chatting with Adam Vordermark and you are guaranteed to be entertained.
Some of his tales are sure to stretch the imagination, such as how he started a local fight club - like the movie, "except we use gloves."
Others carry significantly more weight, like when he reminisces about running a 1,600-meter relay race at the Stade de France, the Paris soccer stadium that played host to the 1998 World Cup.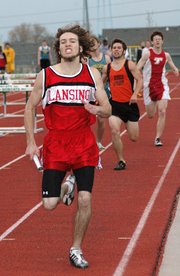 Then there's the improbable, such as Vordermark's plans to see the Lansing High School record in the 1,600 relay fall this season. The record of 3:21 is 18 seconds faster than Vordermark, Bobby Hauver, Brenton Smith and Jason Swisher have run this season, but Vordermark swears it can be done.
The last story - the one about the school record - seems as far-fetched as anything considering only three weeks remain in the season.
But watch Vordermark run just one race and you'll be convinced he's capable of anything. In addition to competing in the 800-meter run, the LHS senior anchors the 1,600-meter and 3,200-meter relay teams. Rarely has he lost a race this season, and he has erased numerous deficits to pull out victories in the relays.
"He finds something that's not there. I've never seen anything like that before," said Smith, the second runner on the 1,600 relay. "We never feel like we're out of a race because you know that he's just gonna dig down deep and hit the gold mine that's not there."
Gifted with speed, Vordermark has won over his teammates because of his competitive spirit and his desire to do the impossible. Because of him, the Lions' expectations are higher than they've been in years entering the postseason.
DO IT FOR THE CANDY
Turns out, the gold mine has been there all along, although originally the gold took the form of a one-pound bag of multi-colored Skittles.
A military child, Vordermark has spent his life ping-ponging around the globe. Born in Atlanta, his family moved to Fort Riley when he was six. From there it was off to Turkey for three years, Washington, D.C., for a few months, Florida for three years, Leavenworth for a year, back to Turkey for three more years. He spent the last two years in Egypt before arriving in Lansing in the fall when his father retired from the military and accepted a teaching position at the Command and General Staff College at Fort Leavenworth.
Vordermark began running competitively two years ago at the Cairo American College, his high school in Egypt, but he was first introduced to running as a kindergartner in Turkey.
"We used to run the mile in P.E.," he said. "Our teacher would get anything of candy we wanted if we won the mile. And I always won the mile. Every single time we ran it. No matter what I had to do, I did it to win that mile."
In second grade he already was sniffing the seven-minute barrier in the mile and scarfing down Skittles as his prize. It wasn't until eight years later when he began collecting medals for his victories.
ANSWERING THE CALL
Vordermark refused to run track for years because he was opposed to wearing "short-shorts," but he finally gave in during his sophomore year at Cairo American College in Egypt. Students at the international schools only competed in two meets per year, and as a sophomore Vordermark didn't qualify for the second meet.
As a junior he quickly earned a varsity spot in the 400-, 800- and 1,500-meter races. He ran well at the first meet and qualified for the second. That meet, which was held in Paris, was the international schools' equivalent of the state championships. It was there that Vordermark turned in his first jaw-dropping track performance - as the anchor of the 1,600-meter relay.
"In Paris, we were the underdogs," he said. "Half of our team didn't come. I was the only 400 runner there. One guy ran a 57, and the other guys ran a 60 and 63."
Vordermark faced what seemed like a 200-meter deficit on his lap of the preliminary race, but he closed the gap and earned Cairo the last spot in the finals.
Later Vordermark placed second in the 1,500 and third in the 800. Those turned out to be his final races in Egypt before his family moved to Lansing.
RAISING THE BAR
Vordermark was crushed when he learned his family would be moving again. He'd once again be leaving friends behind, and it was his track teammates he missed the most.
The one perk he saw by coming to Lansing was that for the first time in his life he'd get to play football. A knee injury sustained while stretching on the third day of practice shattered that dream, though, and Vordermark again turned his focus to track and made winning his personal crusade.
The Lansing Invitational was his first meet, and he made his presence felt by cruising to a first-place finish in the 800 in 2:14.46 and bringing the 1,600 relay from behind to win in 3:55.24. Two weeks later he won the 400 in 53.33 and anchored the 3,200 and 1,600 relay teams to victories. At Louisburg he took first in the 800 in 2:05.08 and led LHS to a fourth-place finish in the 1,600 relay in 3:39. He placed second in the 800 with a 2:03 at the Tonganoxie Invitational while leading his relay teams to two more victories.
His ability to hunt down opponents and dissolve deficits of all sizes led LHS head coach Errol Logue to refer to Vordermark as "the closer."
Friday at the Shawnee Mission North Relays, Vordermark placed fourth in the 800 but set a personal best by nearly two seconds when he ran a 2:01.4. That time ranks him among the state's elite. Still, it's obvious that the relays mean the most to him.
"He's a big-hearted kid, that's for sure," LHS distance coach Melanie King said. "He absolutely cares a lot for his teammates, and he wants to do it for them. I think that's part of the fun for him on those relays, doing it as a team and working together and pulling each other along."
Vordermark's competitive spirit and his ability to close gaps in relays has done more than provide a jolt of excitement to the LHS track program; it's also convinced other runners to push their limits.
"He's got a drive that I have never seen before," Smith said. "Adam brings that fire and leadership to us that helps us compete. When we see him drive like that, we just want to push harder."
Vordermark's best chance at medaling at state likely will be in the 800, and he'll take care of that on his own time. The 3,200 relay should qualify for state, too.
But his primary concern, just as it has been all season, is on the 1,600 relay. They're still outsiders to qualify for state in that event, and that would put the school record out of reach, too. Vordermark doesn't care. That's just meaningless speculation. He prefers substance.
Besides, he has beaten the odds numerous times before. What's one more time?
Breaking the school record would give Vordermark one more wild story to tell, and he'd get to share the moment with three friends and teammates.
"We're breaking that record," he reiterates. "If I go away from here and within a year nobody remembers my name, I won't care. The only footprints I really want to leave, that I really care about leaving, are that relay record."