A former Dodge City planner has recently joined the ranks of the Leavenworth County Planning & Zoning Department.
Mike Gurnee, who started the job two weeks ago, will primarily be responsible for reviewing subdivision plats for the county while he "gets his feet wet" and has the expertise to eventually aid department director Chris Dunn in various planning projects.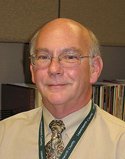 "Leavenworth County offered me some fantastic opportunities," Gurnee said Wednesday. "Everybody from elected commissioners to the neighbors has been extremely friendly."
Although Gurnee enjoys the area, he hasn't completely adjusted yet.
Gurnee's wife, who is a schoolteacher in Dodge City, is still seven hours away. She plans on finishing out the school year there before the couple looks at buying a home in Leavenworth.
"I'm doing just fine by myself for now:but I've gotten to know the fast-food places real well so far," he said, chuckling.
Born and raised in Lexington, Ky., Gurnee first decided he wanted to be a city planner after reading a paper in his urban sociology course at the University of Kentucky.
"It stuck out as a good field to be in," Gurnee said. "Since that one course, I took every one that had 'planning' or 'environment' in front of it:I've never had any major disappointment with my profession.
"Our job is to try and make communities better."
Gurnee said he's eager to be a part of a developing community like Leavenworth County.
"I like the challenge of a fast-growth area. Dodge City had slow, steady growth. Leavenworth County has a different challenge of accommodating faster growth, and I like new challenges."
NAME: Mike Gurnee
ADDRESS: Temporary Leavenworth apartment
OCCUPATION: Planner II in the Leavenworth County Department of Planning & Zoning
FAMILY: Mary Anne, wife; Chris, 25, son; Jeff, 23, son
HOW LONG HAVE YOU LIVED IN THE AREA AND WHAT BROUGHT YOU HERE? "Two weeks. 11 years (in Dodge City) is long enough in one community with this type of position."
WHAT DO YOU LIKE MOST ABOUT LEAVENWORTH COUNTY? "The people. I was only here three days before a neighbor invited me over for dinner. I'm not used to that."
WHAT DO YOU DO FOR FUN? "Yard work and genealogy is an interior, rainy day activity."
WHAT WOULD SURPRISE PEOPLE ABOUT YOU? "I grew up on one of the famous horse farms in Lexington, Ky. Breeding, racing and training had been in the family since 1790. It's not something you advertise a lot, though, because it has kind of a snobbish appeal, and I'm not like that."
WHAT'S THE BEST ADVICE YOU'VE EVER RECEIVED? "Customer service is everything."
WHAT CLUBS OR ORGANIZATIONS DO YOU BELONG TO? Treasurer of the Kansas Chapter of the American Planning Association, Knights of Columbus in Dodge City.