Half a world away in Iraq, a Lansing reunion of sorts
After a month of training, processing and travel, I arrived Jan. 21 at Victory Base Camp in Baghdad, Iraq. All new personnel are billeted their first few nights here in the transient tent area, until permanent quarters become available and are assigned in one of the numerous "trailer cities" at Victory Base Camp.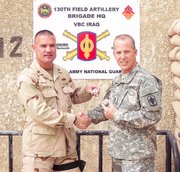 After three days in the tent city, I finally received my tent assignment, Trailer B-30, side A/B in Freedom Village. I had lived out of my sea bags for the previous six weeks, and it was finally time to move into quarters and "unpack" and make my home for the next year. The day I received my trailer assignment, I hurriedly moved all my gear from the tent to my trailer during the daytime, throwing everything through the door, and on the floor, so I could go back to work for the rest of the day with the Multi National Corps-Iraq.
At 9:30 p.m. Jan. 25, I walked back from work, put my key in the trailer door and entered my new home. The light was on and I could see my roommate on his half of the trailer. Immediately I recognized the other face in the room. Before I could say anything else, I think I blurted out, "I know you," to my roommate. Brian's answer was, "Really? Are you part of the RIP/TOA?" I said, "Neither, I'm an Individual Augmentee assigned to the III Corps, and I'll be working for C8 at Al Faw."
Neither Brian nor I could make a connection where we knew each other from, but I knew I had seen him numerous times before, I just couldn't remember where. I am in the Navy, and Brian is in a field artillery unit with the National Guard. Our different branches of service and military experience were obviously not the connection, and this kept us off track from figuring out if we indeed know each other. Most of my Navy career has been in Virginia or with the SEABEES. Brian just told me he was working at Camp Slayer at Entry Control Point 13 and he was with a field artillery unit, and had been in Iraq since June of 2006. Again, although his face looked familiar, we could not make a connection.
The next morning I was asking Brian again, "Man, I know you from somewhere. Where are you from?" He answered, "Well, I'm with a National Guard unit out of Topeka, Kansas." Brian's answer at least put us in the same state from a military perspective. I was serving as the commanding officer for Naval Support Activity Bahrain, Detachment Echo, in Wichita. My unit was based at McConnell AFB. This conversation led to our hometowns. I asked Brian, "Where do you live?" He responded, "You've probably never heard of it, but I live in a small town called Lansing." Being the utter social genius I am, I said, "No (kidding), that's where I'm from? I knew I'd seen you somewhere before!"
At this point, my memory and recollections started to come back. I had actually run into Brian at Woods Mini Mart in Lansing in the spring of 2006 before he deployed. I remember talking to Brian while we were each filling our vehicles with gas and wishing him good luck on his deployment. Years earlier, I had coached at least one of his boys on the Slammers Wrestling Club. We had also seen each other during Lansing's Little League Baseball season when our kids were younger. Our paths had indeed crossed in Lansing, and both of us have sons who will graduate from Lansing High School in two weeks.
Besides having kids in the same graduating class at Lansing, we have other common ties to the community. Brian is a police officer for the Leavenworth Police Department, and I've worked 20 of my 23 years for Hallmark in Leavenworth. Both Brian and I were involuntarily mobilized in support of Operation Iraqi Freedom. Brian is a master sergeant with the 130th Field Artillery Brigade, and his brigade's primary mission is Base Defense Operations for Victory Base Camp, including Camp Slayer. After Brian's unit returns to the States, Uncle Sam will send him to attend the Sergeant Major's Academy at Fort Bliss, before his released from active duty near the end of June. As a lieutenant commander in the Navy, my future is less certain in terms of my next billet, but I do hope to be home before Thanksgiving, certainly by Christmas.
Brian and I both agreed that we needed to capture the "random" assignment of two Lansing military personnel in some way. In the accompanying photo, we are exchanging our unit coins-a long tradition in the military and a way to remember that it is truly a small world indeed.