Hauver grabs gold at
KVL

meet
Junior pole vaulter clears 12 feet, claims league title
Bobby Hauver was the only Lansing High athlete to win a Kaw Valley League championship Wednesday at the KVL meet at Santa Fe Trail High School, but Hauver did it in style.
The junior pole vaulter set a personal record by clearing 12 feet in his winning effort. Senior Kyle Buehler also cleared 12 feet, but he finished second based on total misses. Senior Jarred McLaurin finished fifth with an 11-foot vault.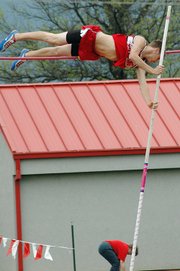 The trio of pole vaulters led the LHS boys to a fourth-place finish in the team standings with 58 points. Bonner Springs won the league championship with 142 points, ahead of runner-up Mill Valley's 123 and third-place Tonganoxie's 96.
The Lansing girls placed seventh with 21 points. Mill Valley was the girls' champion with 168.5 points. Tonganoxie placed second with 153.5 and Santa Fe Trail was third with 75.
Although Hauver was Lansing's lone champion, he wasn't the only LHS boy to turn in a strong performance. Senior Adam Vordermark was the runner-up in the 800-meter run in 2:06.35. He was edged by James Carter of Bonner Springs in a photo finish were Carter ran a 2:06.32.
Also for the LHS boys, junior Will Johnson placed third in the triple jump, junior Chris Hill was third in the shot put, freshman Brandon Craig placed fifth in the 3,200, senior Nathaniel Vigil took fifth in the discus and senior Nate Markovetz was sixth in the javelin. In addition, the 400 relay team placed sixth in 46.64, the 1,600 relay team placed third in a season-best 3:37.94 and the 3,200 relay team placed third in 8:45.98.
Senior Riann Deere was the top female performer for LHS. She placed third in the 200 in 28:02. Freshman Lauren Jaqua took fifth in the 1,600 in 5:55.09, senior Erin Rogers was fifth in the pole vault with a clearance of 8-6 and sophomore Michelle Collins placed sixth in the 100 in 13.62. In addition, the 400 relay team placed third in 52.76 and the 3,200 relay team took fourth in 10:39.13.
KAW VALLEY LEAGUE MEET
Boys
Team scores:
Bonner Springs 142, Mill Valley 123, Tonganoxie 96, Lansing 58, Piper 41, Basehor-Linwood 36.5, Bishop Ward 30, Santa Fe Trail 19, Immaculata 10, Perry-Lecompton 2.5.
Lansing results:
Pole vault - 1. Bobby Hauver, 12-0; 2. Kyle Buehler, 12-0; 5. Harred McLaurin, 11-0.
800M - 2. Adam Vordermark, 2:06.35.
3,200M - 5. Brandon Craig, 10:51.02.
400M relay - 6. Lansing, 46.64.
1,600M relay - 3. Lansing, 3:37.94.
3,200M relay - 3. Lansing, 8:45.98.
Triple jump - 3. Will Johnson, 40-1 3/4.
Shot put - 3. Chris Hill, 41-9 1/2.
Discus - 5. Nathaniel Vigil, 115-6.
Javelin - 6. Nate Markovetz, 141-5.
Girls
Team scores:
Mill Valley 168.5, Tonganoxie 153.5, Santa Fe Trail 75, Perry-Lecompton 57, Basehor-Linwood 27, Bishop Ward 24, Lansing 21, Bonner Springs 18, Piper 14.
Lansing results:
100M 6. Michelle Collins, 13.62.
200M - 3. Riann Deere, 28.02.
1,600M - 5. Lauren Jaqua, 5:55.09.
400M relay 3. Lansing, 52.76.
3,200M relay 4. Lansing, 10:39.13.
Pole vault 5. Erin Rogers, 8-6.