LHS

cheerleader lands spot at

KU
A familiar face on the sidelines of Lansing High School sporting events will soon draw attention from collegiate fans, too.
Sica Bradford, a LHS senior and four-year cheerleader, found out last week that she would be one of the newest members of the University of Kansas cheerleading squad.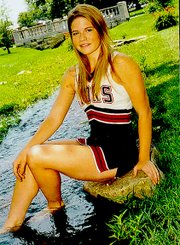 Bradford tried out with about 40 other girls the weekend of April 28 at Anschutz Sports Pavilion on campus at KU, and made the final list of 15, which includes two alternates.
"I was super anxious," Bradford said Wednesday about waiting for the results. "They said, 'We're going to put it on a window.' Most everyone at school knew I'd tried out. They're like, 'Did you make it; did you make it?':It was nerve-wracking."
Tryouts included a tumbling routine, a performance of the KU fight song, which Bradford learned only one day prior, and partner stunts with a yell leader.
"The stunting was really different, because in high school it's all girl," Bradford said. "There are four girls holding you up as opposed to one person."
Aside from that, Bradford was definitely prepared for the audition. She has a long history of training, including 13 years of dance and acrobatic classes at Deena Shroyer School of Dance in Leavenworth. More recently, Bradford has worked out at G-Force Athletics, an all-star gym located in Lawrence.
"A lot of the KU cheerleaders go there," Bradford said. "That's kind of where I got the idea (to try out)."
With G-Force, Bradford has competed in cheerleading contests "all over the Midwest," including Oklahoma and Texas. Her coach of five years there, Jimmy Godfrey, will be an assistant for the KU squad next season.
"He'll really be able to push me along," Bradford said.
As a KU cheerleader, Bradford will be sideline at football and basketball games, performing before much larger crowds than she's accustomed to in Lansing. She'll travel to away games and will have a chance to cheer before national crowds at possible bowl games and NCAA tournament games.
"With so many more people watching now," she said, "it's going to be a heck of a thrill."