Tennis season ends at regionals
Bonner Springs — For one Lansing High tennis player, Thursday's Class 5A regional tournament at Bonner Springs High School marked the end of the road.
For the other five Lions who competed, it was simply a heavy dose of experience that is expected to pay off a year from now.
Senior Josh Robinson's career came to an end with a 6-2, 6-4 loss to Chase Campbell of Gardner-Edgerton in the first round of the singles bracket. Campbell eventually finished fourth at the regional and advanced to state.
Photo Gallery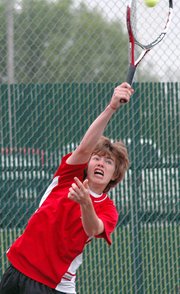 LHS tennis competes at 5A regionals
Robinson said he was disappointed that his tennis career ended without a trip to state. Still, he said he was proud of the way his season went - a season that included a nine-match winning streak and two tournament titles.
"I'm happy with the season and everything," he said. "This is just a pretty tough regional."
Lansing's other singles player, junior Mo Meyer, also fell in the first round in a hard-fought three-set match to Tommy Nibler of Gardner, 6-1, 5-7, 6-3.
Nibler, a tall exchange student from Germany, had Meyer on his heels early, but Meyer capitalized on Nibler's bad temper and nearly pulled off the victory.
The mid-match rally wasn't enough to send Meyer to state, but he said he considers it a sign of progress. Nibler dominated Meyer in a match earlier in the season, so Thursday's match was a sign that Meyer had closed the gap.
"I went into that second set feeling like I could play with that type of player, that caliber," he said. "Next year I'll be playing more guys like that, and I think I can beat guys like that."
Lansing's doubles team of junior Eric Hansen and sophomore Metin DePaolis lost in the first round to Tim Needham and Justin Eifert of Mill Valley.
Lansing's top performers were sophomores Ezra Carpenter and Clayton Hall. They earned the No. 9 seed in doubles but disposed of their first-round opponents from Sumner Academy, 6-1, 6-1. That set them up with a quarterfinal showdown with the No. 1 seed from Bonner Springs, Brett Johnson and Justin Moulin. Despite taking an early game during the first set, Carpenter and Hall ultimately lost, 6-1, 6-0, and ended their season a match shy of state.
For Hall, this was his first postseason tennis tournament. Carpenter was playing in his second straight regional, and the first-round victory was his first postseason success. He said winning one match Thursday made him feel like progress was made from his freshman to his sophomore season.
"This year the odds of going to state were against us, but winning that one match felt good," he said. "Maybe next year."
Hall said state is a realistic possibility next year if he and Carpenter continue playing doubles together.
"We have the potential," he said. "We just need to keep working at it. If that's the case, then next year we should be pretty successful."
St. Thomas Aquinas won the team title at regionals. State qualifiers in singles were Taj Harrison of Bishop Miege, Phillip Shinn and Ryan Dennihan of Aquinas and Chase Campbell of Gardner. Doubles state qualifiers were Max Robinson and Alex Shinn of Aquinas, Johnson and Moulin of Bonner Springs, Adam Skultety and Tim Woodward of Aquinas and Toby Offergeld and Chris Stone of Gardner.