Services for Kenneth H. (Ken) Bernard, 46, Lansing, will be at 10 a.m. Saturday, May 12, at Davis Funeral Chapel, Leavenworth. Burial will follow in Mount Muncie Cemetery, Lansing.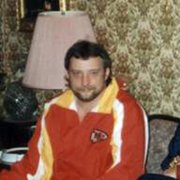 Mr. Bernard died Wednesday, May 9, 2007, at St. John Hospital, Leavenworth.
He was born Jan. 21, 1961, in Stuttgart, Germany, the son of Kenneth W. and Marliese (Kummerle) Bernard.
Mr. Bernard's mother, Marliese K. Bernard, died Aug. 26, 2001.
Survivors include his father, Kenneth W. Bernard, Lansing; his children, Sarakay M. Bernard, Overland Park, and Scott M. Bernard, Evansville, Ind.; a brother, Peter H. Bernard, and a sister, Andrea M. Bernard, both of Lansing; five grandchildren; and a nephew.
The family will receive friends from 9 a.m. to 10 a.m. Saturday, May 12, at the funeral chapel.
The family suggests memorial contributions to the Kansas Regional Prison Museum of Lansing, sent in care of the funeral home, 531 Shawnee, Leavenworth 66048.