LHS

softball improves postseason positioning with sweep of Mill Valley
The Lansing High softball team made history Thursday with its first-ever sweep of Mill Valley at Lansing City Park.
The Lions were excited by that feat, which they accomplished by winning 5-1 and 3-2, but they were more excited by what the victories could mean to their postseason hopes.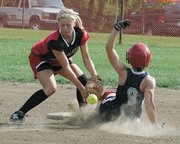 Shawnee Heights remains in the driver's seat for the No. 1 seed in next week's regional tournament, but Lansing drastically improved its chances of claiming the No. 2 seed and home-field advantage in regionals.
"I would've been happy to win one tonight," LHS coach Terry Cornett said. "But to win both of them, and all four in two days (including a sweep of Bonner Springs on Wednesday) : I hate to say it's a done deal, but I'd hate to think we could get knocked out of the second seed now."
If Lansing sweeps its 4 p.m. doubleheader today at Turner then LHS will lock up the No. 2 seed. The Lions might not have an easy time, though, considering they'll be battling fatigue from playing four games in two days.
LHS had a relatively easy time sweeping Bonner Springs, but Thursday's games against Mill Valley forced the Lions to dig deeper.
The Jaguars took a 1-0 lead in the top of the first inning when Carleigh Berry led off the game with a single. She stole second and later came around to score on a wild pitch.
After the rough start, however, LHS sophomore pitcher Brittney Lang settled down and retired the final 21 batters she faced.
Freshman Rachel Milnark smashed a solo home run in the fourth inning that tied the game. Then LHS took control with three runs in the fifth inning. Jasmine Holland, Sara Logan and Katie Smith hit back-to-back-to-back singles, and all three came around to score on a double by Milnark.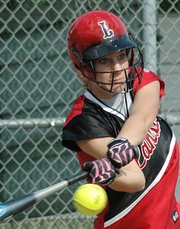 The Lions added an insurance run in the sixth inning.
Lang finished the game win a one-hitter while striking out 12 batters. Cornett noted that while Lang was dynamite, she also received plenty of help from the defense.
"That fifth inning looked like the Amanda Darrow show," Cornett said, talking about the Lions' second baseman. "The first girl struck out, and the next girl smacked one, but Darrow knocked it down and put her out. Then she went pretty high to catch a line-drive to end the inning."
Milnark started on the mound in game two. She was solid early, but she ran into trouble in the third inning when she allowed five straight hits as two runs scored.
Lansing rallied with a pair of runs in the fourth to tie the game. Milnark singled, Lang walked, Morgan Chiles singled, Natalie Loreti ripped a single that plated Milnark, and Breanne Sanders hit a ground ball that brought home Lang.
Amanda Darrow opened the fifth inning with a single, and then went from first to third on a sacrifice bunt by Logan. Lang then singled home Darrow for a 3-2 lead.
Milnark got into another jam in the sixth inning when Mill Valley put two runners on base with one out. Lang then returned to the mound and Milnark moved to first base. Milnark immediately charged a bunt and flipped it to third for the second out. The next batter popped up to end the inning. The Jaguars never threatened again.
Cornett raved about his team's performance in both games. He said he was most pleased that everybody, from the starters to pinch-runners and hitters, all contributed to the wins.
"They really picked it up that second game, and that was something I hadn't seen in a while," he said. "They pulled it together, and everybody contributed. It was a real team effort."