Jackson to continue career at
FSCC
A proud smile creased Jeff Jackson's face on Tuesday, April 17, as he prepared to sign his letter-of-intent to play basketball at Fort Scott Community College.
This was a day the Lansing High senior had long dreamt of, but for most of his career it hardly seemed like a reality.
After a season where he emerged from the shadows and averaged close to 10 points per game, however, Jackson will get the opportunity to play college basketball. He had a tryout at Fort Scott on April 11 and earned a spot on the team.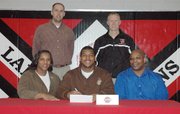 "I didn't think I did good at all," Jackson said of the tryout. "(The coach) didn't say anything, and he even forgot to call my name going into the locker room with all of the people who made it."
After the coach realized his error, however, Jackson learned he had a roster spot. Relieved at the news, Jackson readily accepted the invitation to play.
Being overlooked isn't a new experience for Jackson as far as basketball is concerned. But just like his college signing, Jackson's patience and perseverance usually has paid off.
Standing 6-foot-3 and 225 pounds, Jackson always has had the look of a starting forward in the LHS basketball program. For three years, however, it seemed his primary fault was being one year too young. Jackson spent his first year of high school on the freshman team, but as a sophomore he leaped to the varsity level and spent the next two seasons as the Lions' sixth man.
Although he was Lansing's most often used reserve, his minutes were limited on a team that had the same starting five for two seasons and usually went just six deep. Jackson's role was to rebound and give a rest for the starters - all of which were in the same class.
"Being the sixth man for a while and being behind people taught me to be humble," Jackson said.
Jackson never complained about his small role, but he longed for his chance to be a key contributor - something he got to do plenty of this season.
With all five starters gone and a new coaching staff in place, Jackson was Lansing's only senior this season. He also was the only varsity returner with significant experience. Jackson didn't take that responsibility lightly.
"I can't imagine a better person to be our only senior," first-year LHS coach Rod Briggs said. "He had his heart in the right spot and really gave us as a new staff an opportunity to succeed with the younger guys. We really appreciate that."
Lansing started the season 0-6 against a difficult early slate, but regrouped and won eight of its last 15 games and nearly upset Class 4A state powers Atchison and Piper and eventual Kaw Valley League champion Basehor-Linwood.
Jackson's season was impressive enough to garner All-KVL first-team honors.
As much as Jackson improved as a player this year, he likely has more room left to improve than most high school seniors because of his lack of major minutes prior to this season.
"I think his best basketball is in front of him if he gets to work at it," Briggs said. "We'll see some big improvements as time goes along."
Jackson credits Briggs and LHS assistant coach Ben Doll with helping him improve enough to land on a college roster, and he said he is excited about the opportunity to contribute at Fort Scott.
"I just want to be a good leader and good motivator on the team; that's what it's all about," he said. "I just want to have a good team. It's not about individual stuff."
Jackson said he probably will pursue a degree in general studies at Fort Scott and then attend a four-year school where he plans to study interior architecture.
This summer he will coach a ninth- and 10th-grade Mid-America Youth Basketball boys team and work with Briggs as an assistant on the 11th- and 12th-grade team.