Lansing shuts out Miege, earns spot in state quarterfinals
With 10 shutouts under her belt this season, Lansing High soccer goalkeeper Katie Nietzke said LHS coach Rob Elkins made a special request prior to the Lions' regional championship game Thursday against Bishop Miege.
"Coach said before the game, 'Katie, let's try to get another shutout,'" Nietzke said. "I said, 'Coach, I just want to win.'"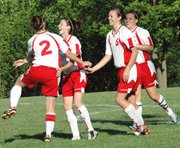 Nietzke honored her coach's wishes with her 11th shutout of the season as Lansing claimed a 1-0 victory at Lansing Middle School and advanced to the Class 5-1A state quarterfinals for the first time in the program's six-year history.
Lansing (14-3) scored 6:25 into the game when senior Bianca Manago slipped a through ball past the Miege defense to junior Rachel Pride. Pride took two dribbles and fired a shot under Stags goalkeeper Erin O'Connor from about 15 yards out.
"That goal that Rachel scored in the first half was critical not just because it was the game-winner, but because it gave our team inspiration," Elkins said. "They had something to defend, and they wanted to protect it."
The Stags responded to the goal with the fury that would be expected of one of the state's traditional powers. The Lions spent the rest of the game weathering threat after threat by Miege as speedy forwards Sarafina Kankam, Haley Long and Kelsy Long fired shot after shot.
"At times we were just hanging on," Elkins admitted.
Nietzke made 10 saves in the victory, including two where she charged the attacking forward and deflected the shots wide. The junior was quick to credit her supporting defense with plenty of help, and rightfully so. In addition to doing numerous sprints to stifle breakaways by the Miege forwards, LHS defenders Abby Hauver and Kathryn Sebes both collected backsaves when they cleared shots away from the goal line.
Photo Gallery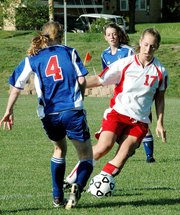 Lansing beats Bishop Miege, advances to state quarterfinals
"Our defense did awesome," Nietzke said. "They played to the best of their abilities, and those (Miege) girls were really, really, really fast. Our communication really helped. We've been working on that this year, and it really made a difference.
"Defensively, we are really strong, and we keep getting better."
After fending off the Stags' best efforts, the Lions regained control during the final seven minutes and preserved the victory.
As proud as Elkins was of his team for achieving yet another goal this season, he said he was particularly happy for seniors Kayla Pina, Elizabeth Cristiano, Kristen Huffman, Brittany Swisher, Hauver and Manago.
"I'm so happy for the class of 2007 because they have been working for this day for a long time," he said. "They gave up Senior Awards Night to be here. This was very important to them."
By skipping one of the biggest events of graduation week to play soccer, the seniors extended their careers at least one more game. They will compete Tuesday in the state quarterfinals against a yet-to-be-determined opponent. Quarterfinal brackets will be announced Saturday.
"Whoever we get on Tuesday, we're going to play our hardest," Nietzke said. "We really want it. All of these three-mile runs in the heat, all of our conditioning and hard work, it's all paid off."
NOTES
- Joining Lansing in the quarterfinals are St. James Academy (14-3), Shawnee Heights (15-2-1), Topeka Seaman (15-2-1), Wichita Kapaun-Mt. Carmel (17-1), Rose Hill (12-5-1), Wichita Bishop Carroll (14-3), and the winner of today's game between St. Thomas Aquinas (14-1) and Piper (8-5-1).
- Lansing now is 2-1 this season against teams from the East Kansas League. LHS also beat Blue Valley this season, 2-1, and dropped a 5-0 decision to Class 6A's then-No.1 team Blue Valley West.
- Only one Class 5-1A team has defeated Lansing this season. That was No. 3 Shawnee Heights, and the 2-1 loss came in double-overtime.
- Lansing is ranked No. 5 in the state in Class 5-1A in the Kansas Soccer Coaches Association's final regular-season poll.
- Bianca Manago lead LHS with 17 goals this season, Christine Cordes has 16 and Rachel Pride has nine.
- Rachel Pride leads LHS with 14 assists, Bianca Manago has 11 and Allison Dillon has six.