19 Lions qualify for state track meet
Topeka — Nineteen Lansing High track athletes qualified for state in a combined 13 events Friday at the Class 5A regional meet at Hummer Sports Park.
Included among the state qualifiers were seven seniors and seven freshmen.
Seniors Brandon Mills, Adam Vordermark, Jonathan Martens and Lori Flippo will be making their first trip to the state meet. So will freshmen Brandon Craig, Carley Brown, Lauren Jaqua, Sarah Nielsen, Jennifer Totleben, Kate Meara and Madison Brandt. Juniors Bobby Hauver, Griffin Davis and Meghan Sullivan also will be state first-timers, and so will sophomore Michelle Collins.
Photo Gallery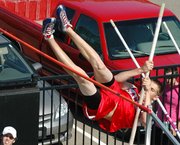 Class 5A regional track meet
The only LHS qualifiers who've been to state before are sophomore Ellie McNeill and seniors Kara Ritchey, Erin Rogers and Riann Deere. Rogers is a three-time qualifier in the pole vault, Ritchey competed in the 800 meters two years ago, and McNeill and Deere ran in the 1,600-meter relay last year.
Deere will be Lansing's busiest athlete at this year's state meet. She qualified in three events - the 400-meter relay, the 1,600-meter relay and the 200-meter dash.
Ritchey and Jaqua both will compete in the 1,600 relay and 3,200 relay. Collins will compete in the 400 relay and the 100-meter dash. Vordermark is Lansing's only multi-event qualifier on the boys' side. He will race in the 3,200-meter relay and the 800-meter run.
For a full recap from the regional track meet, pick up the May 24 edition of The Current.
STATE QUALIFIERS
Brandon Craig: 3,200M relay.
Brandon Mills: 3,200M relay.
Griffin Davis: 3,200M relay.
Adam Vordermark: 3,200M relay, 800M.
Jonathan Martens: Discus.
Bobby Hauver: Pole vault.
Carley Brown: 100M hurdles.
Lauren Jaqua: 3,200M relay, 1,600M relay.
Sarah Nielsen: 3,200M relay.
Kara Ritchey: 3,200M relay, 1,600M relay.
Lori Flippo: 3,200M relay.
Michelle Collins: 100M, 400M relay.
Ellie McNeill: 400M relay.
Riann Deere: 400M relay, 200M, 1,600M relay.
Jennifer Totleben: 400M relay.
Kate Meara: 400M.
Madison Brandt: 1,600M relay.
Meghan Sullivan: Triple jump.
Erin Rogers: Pole vault.