19 Lions qualify for state meet
Topeka — Long-time Lansing High track coach Errol Logue tossed and turned Thursday night as he worried about what was bound to happen at Friday's Class 5A regional track meet.
Logue knew the quality of competition his young Lions would face at Hummer Sports Park, and he was certain that a season of small successes was going to end on a sour note.
Photo Gallery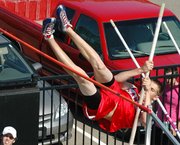 Class 5A regional track meet
Turns out, the coach had nothing to worry about. Lansing qualified 19 athletes for the state track meet in 13 different events. Fifteen of those qualifiers are first-timers, and seven are freshmen.
"I never dreamed it would be this good," Logue said, a smile glowing from his face. "I had trouble going to sleep last night, not because I was afraid the team wouldn't look good, but because I could just see all of those broken hearts. But there weren't any."
Seniors Brandon Mills (3,200M relay), Adam Vordermark (3,200M relay, 800M), Jonathan Martens (discus) and Lori Flippo (3,200M relay) will be making their first trip to the state meet. So will freshmen Brandon Craig (3,200M relay), Carley Brown (100M hurdles), Lauren Jaqua (3,200M relay), Sarah Nielsen (3,200M relay), Jennifer Totleben (400M relay), Kate Meara (400M) and Madison Brandt (1,600M relay). Juniors Bobby Hauver (pole vault), Griffin Davis (3,200M relay and Meghan Sullivan (triple jump) also will be state first-timers, and so will sophomore Michelle Collins.
The only LHS qualifiers who've been to state before are sophomore Ellie McNeill (400M relay) and seniors Kara Ritchey, Erin Rogers and Riann Deere. Rogers is a three-time qualifier in the pole vault, Ritchey competed in the 800 meters two years ago, and McNeill and Deere ran in the 1,600-meter relay last year.
Deere will be Lansing's busiest athlete at this year's state meet. She qualified in three events - the 400-meter relay, the 1,600-meter relay and the 200-meter dash.
"This is the right day for it to come together; I'm very proud," she said. "Logue always says the season starts at regionals, and it's true. I'm just proud that I could pull it together. Today is the day you want to be able to do that."
Ritchey and Jaqua both will compete in the 1,600 relay and 3,200 relay. Collins will compete in the 400 relay and the 100-meter dash. Vordermark is Lansing's only multi-event qualifier on the boys' side. He will race in the 3,200-meter relay and the 800-meter run.
Collins said she didn't expect to qualify for state at all, let alone in two events.
"It's still rushing," she said. "I'm still nervous. I'm shaking. I had no idea I'd make it."
Another first-time qualifier, Hauver heads to state riding a recent hot streak. He set a personal best vault of 12 feet two weeks ago at the Kaw Valley League meet. He matched that jump during his runner-up finish at regionals, but he came within a hair of clearing 12-6 when his arm clipped the bar.
"It gives me confidence to know that next week I'll work harder at practice, and just that little more effort will get me over 12-6 (at state)," he said.
Perhaps the most unique feat for the Lansing track team was the makeup of the girls' 1,600- and 3,200-meter relay teams that qualified for state. Both relays blend the old with the new.
"The coolest thing about the four-by-eight and four-by-four is there's two seniors and two freshmen," Ritchey said. "We've got freshmen coming in that are really good, and we've got seniors teaching them how it's done. That's pretty awesome."
For Logue, the success at regionals means he'll get a few good nights of sleep this week before state.
"Our whole goal was to get people to state," he said, "and I feel like we've achieved our goal."