Prepping for nationals
FBLA

students completing fundraising for trip
A working budget on the white board of Lansing High teacher Sue Lednicky's room occupied junior Hal Laurence on Tuesday.
Only a few hundred dollars are left to get him, two other students, Lednicky and a guardian to Chicago in June for the national Future Business Leaders of America competition.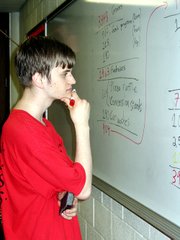 The team has raised money for the past two months in the event they would qualify for nationals.
As Laurence said, "It wasn't a given, but with a little bit of luck, divine providence and skill," the LHS students qualified for nationals.
Once there, Laurence and Matt Humphreys, senior, will compete in business ethics, the competition they aced at state in March.
"In the final round the judges had nothing to say," Laurence said. "We had a perfect score."
Humphreys placed sixth last year at nationals, which makes him familiar with the competition. Laurence said he saw that as an advantage, something that could come in handy when the two face strong contenders who all won their state competition in the category.
"Matt deserves a lot of recognition for any achievements I've made now," said Laurence, who before two years ago never had any public speaking experience. "It's a pay back, if you will; I can back him up strongly."
Laurence said since Humphreys placed and wants to do even better, he is feeling some pressure, but he thinks they have another advantage.
"Matt and I aren't the school's best speakers, maybe not even FBLA's best speakers, but we know how each other works and we get along very well," Laurence said.
Lednicky said Humphries has been with her since the beginning of the program. She asked his mother to attend the competition so she can have an extra guardian and company.
Adam New, senior, will also compete in Excel Spreadsheets. He placed first at state.