Teacher roars off into retirement
Colleagues arrange for going-away motorcycle ride for Jean Salmon
Dozens of Lansing Elementary teachers and staff were on hand to send longtime kindergarten teacher Jean Salmon off in style.
The May 16 retirement celebration for the 30-year veteran teacher included cake, cards and a special surprise: a high-octane ride on the back of a Harley-Davidson.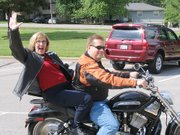 "Jean told Andrea (Rothmeyer) and Linda (Hume) a few years back that she had always wanted to ride on a motorcycle," Ryan Rothmeyer, LES music teacher, said as "Born to be Wild" played from his portable stereo. "So we thought we'd make that happen."
Hume, who taught next to Salmon for all 30 years as one of four kindergarten teachers at LES, said Salmon had been through eight principals, nine superintendents and an estimated 1,200 students.
"I'm tired," Salmon responded, laughing.
She reminisced about the time a 6-foot garden snake entered her classroom at the old Delaware School and about a child who thought the voice of God was speaking to him through the school intercom; actually, it was just the principal at the time giving the daily announcement.
"I feel very sad to be leaving Lansing Elementary School," Salmon said via e-mail. "I have been privileged to have been part of a wonderful school district. The staff, children and parents are the best."
LES secretary Anna Buffo, whose son Cole had Mrs. Salmon as a teacher 10 years ago, said, "She was wonderful. She's very into the kids. She always got they're attention. She's very consistent with them and always seemed under control."