Federal flood assistance available for county residents
Leavenworth County residents affected by recent flooding are now eligible for individual disaster assistance from the Federal Emergency Management Association (FEMA).
FEMA's Individual Assistance Program helps homeowners, families, and businesses cover immediate, necessary expenses in the aftermath of a declared natural disaster. Funds may be used for housing, disaster-related medical and dental costs, clothing, household items, and other serious needs.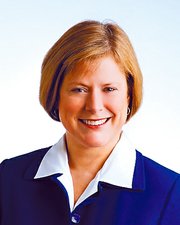 "A whole lot of folks suffered damage to their homes and their belongings in the recent floods," said Congresswoman Nancy Boyda, D-Kan., "and they need financial help to piece their lives back together."
She said the new disaster declaration paves the way for Leavenworth residents to receive immediate federal aid.
Boyda's office said people seeking to apply for individual disaster assistance should visit the FEMA Web site at fema.gov/assistance or call (800) 621-FEMA. Have a pen and paper available to write down important phone contacts. Applicants will need their Social Security number, current and pre-disaster address, phone numbers, type of insurance coverage, total household annual income, and a routing and account number from their bank if they want to have disaster assistance funds transferred directly into their bank account.