Hauver highlights day one of state track meet
Junior pole vaulter sets career best, then does it again
Wichita — No Lansing High athletes collected medals in day one of the Class 5A Kansas state track meet on Friday at Cessna Stadium, but nobody could deny that LHS junior Bobby Hauver gave it his best effort.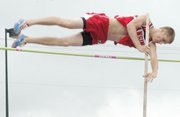 Hauver, a pole vaulter and first-time state qualifier, brought a personal best mark of 12-feet to the state meet. He broke that mark not once, but twice, at state.
Hauver cleared the opening height of 11 feet, 6 inches on his first try. He then cleared 12 feet on his second attempt. Then he set a new personal record by clearing 12-6 on his first try. Next, he cleared 13 feet on his first try.
If not for a miss on his first try at 12 feet, Hauver would've reached the medal stand by finishing in the top seven. Instead, he was bumped to ninth in the tie-breaker.
By clearing 13 feet, though, Hauver did become the second best vaulter in LHS history. Only Frank Angelone went higher when he cleared 14-6 and placed second at state in 1978.
Also for LHS on Friday:
- Senior Erin Rogers finished tied for 10th in the girls pole vault with a clearance of 8 feet. The event winner, Emmy Lehman of Gardner-Edgerton, set a new state record by clearing 11 feet, 1 inch.
- Senior Jonathan Martens finished 15th in the discus with a throw of 112-1. He scratched on his first two throws.
Photo Gallery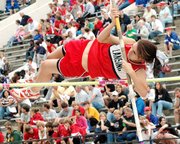 2007 track state meet: day 1
- Freshman Carley Brown finished 14th in the 100-meter hurdles in 19.12 seconds.
- The girls 1,600-meter relay team of freshman Madison Brandt, senior Kara Ritchey, freshman Lauren Jaqua and senior Riann Deere finished 14th in 4:27.64.
- The girls 400-meter relay team of sophomore Ellie McNeill, Deere, sophomore Michelle Collins and freshman Jennifer Totleben finished 15th in 52.25 seconds.
- Deere finished 15th in the 200-meter dash in 28.19.
- Freshman Kate Meara placed 16th in the 400-meter dash in 1:05.90.