Senior saves fastest race for last
Vordermark finishes 12th in fastest 800 race of the day, but his time is a personal best
Wichita — Lansing High senior Adam Vordermark was unable to crack the top seven in the 800-meter run on Saturday at the Class 5A track state meet, but it wasn't for a lack of trying.
In fact, Vordermark ran the fastest 800 of his career as he finished in 2:01.41. The time was good for 12th place, but the 5A race was the fastest of any of the six classes at state. Vordermark's time would've earned him a medal in Class 1A, 2A and 4A.
Photo Gallery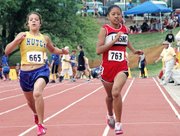 2007 track state meet: day 2
The top seven finishers in 5A all ran 1:58.94 or faster. Jacob Davies of Emporia won the state title in the event in 1:55.54. Interestingly, Davies was positioned next to Vordermark during the stagger start.
Vordermark's race started at about 8:30 p.m. thanks to a 2 1/2-hour rain delay.
Lansing was considered somewhat of a long shot to bring home any medals from state considering no LHS athletes brought top 10 marks into the state meet. Junior pole vaulter Bobby Hauver almost beat the odds Friday, however, when he had a career day by clearing 13 feet. His previous best vault was 12 feet. Hauver placed ninth, though, because he came up on the short end of a tiebreaker.
In other competition Saturday:
- Freshman Michelle Collins finished 15th in the 100-meter dash in 13.52 seconds.
- The boys 3,200-meter relay team of freshman Brandon Craig, senior Brandon Mills, junior Griffin Davis and Vordermark finished 15th in 8:49.16.
- The girls 3,200-meter relay team of freshman Lauren Jaqua, freshman Sarah Nielsen, senior Kara Ritchey and senior Lori Flippo finished 13th in 10:42.66.
- Junior Meghan Sullivan competed in the triple jump. She placed 15th, but she set a personal best when she jumped 30 feet, 4 inches on her first attempt.
For more from the track state meet, pick up the May 31 edition of The Current or log on to lansingcurrent.com.